Editor's note: Campbell Brown anchors CNN's "Campbell Brown: No Bias, No Bull" at 8 p.m. ET Mondays through Fridays. She delivered this commentary during the "Cutting through the Bull" segment of Monday night's broadcast.
(CNN) -- As we mentioned earlier, today President Obama announced he is appointing a former Secret Service agent and top government investigator to be a kind of watchdog over the stimulus money.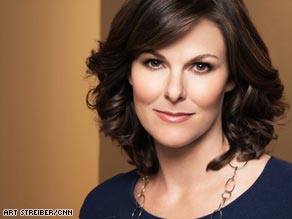 CNN's Campbell Brown asks when are we going to figure out how to end wasteful spending of taxpayer money?
Earl Devaney's official title: Chairman of the New Recovery Act Transparency and Accountability Board.
His appointment is in part meant to quiet all the yelling and screaming about pork and wasteful spending in the stimulus package and make it clear to anyone thinking about abusing this record-setting financial package, that the president will, in his words, "call them out on it."
President Obama: "We are addressing the greatest economic crisis we've seen in decades by investing an unprecedented amount of the American people's hard earned money. With that comes an obligation, and on this I will not compromise or tolerate shortcuts. Americans are looking to leadership and we need to reward their faith, and I have every confidence we can do this."
We have heard a lot of talk about transparency from this president and the White House. But we also know given the amount of money involved, it is going to be a real challenge trying to police this effort.
'No Bias, No Bull'
Get the latest on the day's main events.
8 ET Monday through Friday

My hope is that Devaney's appointment is about more than just optics; that it is about more than good politics. But my concern is he is keeping watch over money that will have already been parceled out.
It's great that he will be reporting back to Congress and the public when he finds instances of abuse, but when are we going to figure out how to keep track of where taxpayer dollars go and stop waste and abuse of our money before it happens?
Some waste in government is inevitable and any increase in government oversight and transparency, I am for.

Watch Campbell Brown talk about wasteful spending »

But it's not clear to me that this new board and the new chairman will get us any closer to addressing the heart of the problem.
The opinions expressed in this commentary are solely those of Campbell Brown.
E-mail to a friend

All About Barack Obama • U.S. Congress • Economic Stimulus