From Paul Steinhauser
CNN Deputy Political Director






WASHINGTON (CNN) -- A new national poll indicates that a majority of Americans want President Obama to try to pass laws with bipartisan support rather than just with the backing of Democrats in Congress.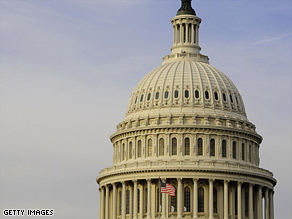 A new poll out Friday shows a majority of Americans want President Obama to continue bipartisanship.
But the CNN/Opinion Research Corp. Survey, released Friday, suggests that Democratic respondents aren't so enthusiastic about bipartisanship.
Fifty-five percent of all respondents questioned in the poll would rather see the president try to pass laws with bipartisan compromise. But that number drops 15 points, to 40 percent, among Democrats in the survey. Fifty-eight percent of Democrats would rather see Obama try to pass laws without Republican support.
Obama signed the $787 billion stimulus package into law on Tuesday. The law is designed to pump up the economy by increasing federal government spending, sending aid to states in fiscal trouble, and by cutting taxes.
The bill passed Congress less than four weeks after Obama took office. It passed the House of Representatives with no Republican support. In the Senate, three of the chamber's 41 Republicans backed the bill.
"Bipartisanship is always more popular with the party out of power than with the party that is in control," said CNN polling director Keating Holland.
Democrats have wide majorities in both houses of Congress, but they are just shy of a filibuster-proof majority in the Senate.
Don't Miss
A filibuster is a move by the minority party in the Senate to basically bring action in the chamber to a halt. Sixty votes are needed to break a filibuster, and the Democrats hold 58 seats in the Senate.
Fifty-eight percent of those polled say they have a favorable opinion of the Democratic Party, down two points from December. Thirty-nine percent indicate they have a positive opinion of the Republican Party, also down two points from December.
Has the Republican Party taken a hit because they opposed the stimulus plan?
"Nothing much has changed. The GOP is still behind the Democrats. They haven't paid a price for opposing the plan but haven't made any gains either," CNN senior political analyst Bill Schneider said.
The survey's release comes one month after Obama's inauguration as president.
Two out of three people questioned in the poll approve of the way Obama is handling his job as president. And more than seven in 10 think that he is a strong leader who inspired confidence and is tough enough for the job.
"But the public appears more attracted to Obama's personal characteristics than his stand on the issues, and they don't think he can end partisan gridlock in Washington, one of the key messages of Obama's presidential campaign," Holland said.
Opinion about the president, while still fairly high, has dropped a bit since December on some measures, including six to seven point losses on inspiring confidence and the president's ability to bring change.
"One exception is the number who say Obama is a strong leader. That's grown to 80 percent, a sign that his attempts to look presidential in the past few weeks have paid off." Holland said.
The number who say they agree with Obama on important issues has dropped a bit as well, and although that figure is still over 60 percent, it is one of the lowest scores he has received.
"That's a signal that Obama's personal appeal, rather than his stands on the issues, are boosting his overall ratings," Holland said.
The CNN/Opinion Research Corporation poll was conducted Wednesday and Thursday, with 1,046 adults questioned by telephone. The survey's sampling error is plus or minus 3 percentage points.
E-mail to a friend

All About Democratic Party • Republican Party