Editor's note: Two new U.S. representatives are chronicling their "Freshman Year" experience through videos and commentaries on CNN.com. This is the third episode from Jason Chaffetz, a Republican from Utah, and Jared Polis, a Democrat from Colorado. For their bios, read here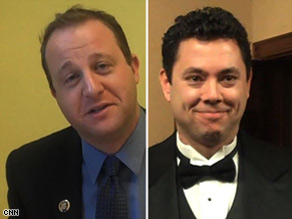 Freshmen Jared Polis and Jason Chaffetz get uncharacteristically formal for events on Capitol Hill.
(CNN) -- Rep. Jason Chaffetz suits up in black tie for a Washington dinner where he scoffs at the fancy first course and sheepishly meets Miss America.
Rep. Jared Polis studies "flash cards" -- photos of his fellow House members -- so he'll be able to greet them in the hallway by name.
In episode three of CNN.com's "Freshman Year," the two are settling into the routine of life on Capitol Hill, learning how to give a speech on the floor of the House and taking part in hearings. In the video and commentaries by Chaffetz and Polis, a theme emerges. On the surface, life as a freshman in Congress is congenial. Yet a bigger, less friendly dynamic is playing out as the two newcomers get ready to cast what could be the biggest vote of their careers, on the nearly $800 billion bill to spark the collapsing economy.
It turns out to be one of the most partisan votes possible, with no House Republicans voting in favor of the bill supported by the Democratic leadership. Read Chaffetz's diary
Don't Miss
"I know people are hurting," Chaffetz, a Republican, says, explaining that he's voting "no" because the bill, in his view, is more about growing government than about stimulating the economy.
Polis, a Democrat, is just as passionately in favor of the stimulus bill, saying it is needed to help save free enterprise, and he helps clear the way procedurally for it in his capacity as a member of the powerful House Rules Committee. Read Polis' diary
As Polis notes in his diary entry, Chaffetz winds up watching the Rules Committee action at midnight, because he stays overnight on a cot in his office and not much else is going on. Chaffetz broadcasts a message on Twitter revealing his feeling about the stimulus bill: "Demo rule passed. Porkulus to be voted on in a few hours."

After the bill is passed, Polis heads to Denver, Colorado, where the congressman reaps a reward for his work. At the signing ceremony, President Obama is introduced by a solar energy entrepreneur from Polis' district and thanks local political figures, including Polis, by name before signing the historic legislation.
Both freshmen wind up back home in their districts for the President's Week recess.
E-mail to a friend

All About Barack Obama • National Economy