By Jason Chaffetz
Special to CNN





Editor's Note: Rep. Jason Chaffetz, a Republican, represents the 3rd District of Utah in Congress and is writing a regular series of reports for CNN.com on his freshman year. For a Democratic freshman's view, read here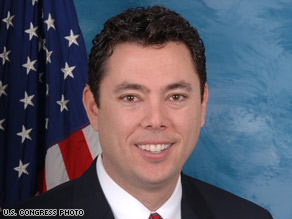 Jason Chaffetz says the stimulus bill was more about expanding the government than the economy.
WASHINGTON (CNN) -- Stimulus. Stimulus. Stimulus. This story doesn't just dominate the headlines -- it dominates the phone lines.
The vast majority of calls, e-mails and letters to my office have been questions about the stimulus.
This one policy proposal could have a bigger impact on our future than any other piece of legislation we pass this term. There's a lot at stake.
While the country needs and deserves government action to revive the economy, I am afraid the final bill fell far short of the goal. If we got this wrong, we may find that the medicine is worse than the disease. After all, we don't have a trillion dollars in a bank account somewhere. Whether we borrow money or print it, there is a cost. And the cost is not small.
People from around the country and in my district are worried about the long-term impact of this bill. They bombarded my office with pleas to oppose it. I voted "no" on the first round of votes and on the final bill. This bill will grow government, not our economy.

Watch Chaffetz get ready to vote »
The Democrats claimed they have been working with Republicans on the stimulus. Hogwash. For a bill of this size, the lack of debate, inclusion, discussion, documentation and transparency was frightening.
Each hour there was a new story about more pork and government intervention. One morning the hot topic was a picture of Hillary Clinton riding in a "green" golf cart and the revelation that the stimulus gives $300 million to fund these golf carts.
The president made a claim that some in Congress advocate doing nothing. I am not aware of anyone who took that position. Republicans proposed alternatives. We want to stimulate spending in the private sector and allow everyone to thrive, especially small- and medium-sized businesses.
Republican members have been regularly cycling through floor speeches and communications back home to let people know our position. It seems to be working. While the president's personal approval numbers are strong, most Utahns seem to agree that this bill spends too much and goes too far. The American public deserves better.
Don't Miss
While the stimulus debate has dominated the headlines, it's not the only thing happening in Washington. We have started working on our committee assignments.
I am on three committees (Judiciary, Oversight and Government Reform, and Natural Resources) and six subcommittees. Leadership has shown a lot of faith in me by appointing me ranking member on Oversight and Government Reform's Subcommittee on Federal Workforce, Postal Service, and the District of Columbia.
I didn't expect such an honor as a freshman.
If you ever watch committee hearings, you may wonder why so many committee members don't seem to show up. I'm sure it doesn't look good on television. But the reality is that most of us have multiple hearings and meetings happening at the same time. You can only be in one place at a time, so we often have to choose one meeting over another.
I had to choose between a Natural Resources hearing and an Oversight and Government Reform Committee meeting. I first went to Oversight and then an hour later to Natural Resources.
In Natural Resources, we had Ted Danson (yes, of "Cheers" and "Becker" fame) and Philippe Cousteau (Jacques Cousteau's grandson) address the full committee regarding drilling policy on the Outer Continental Shelf.
I sent a tweet on Twitter that said, "Ted Danson testifying before Natural Resources on offshore drilling. I plan to share some acting tips with him. We both win." We had a good banter back and forth. He is passionate on this issue, but so am I (I'm in favor of drilling). It was a good, healthy dialogue even though we often did not agree.
As I write this it is late on a Wednesday, I find myself thinking about my family. The work here is exciting, rewarding and the issues are complex, but I do miss my wife and children.
Not being home to see them each night is a sacrifice. They give me the driving energy to do what I do, but being away is hard. I love them and I miss hugging them and hearing about their day -- in person!

But our country is in financial crisis. Our response to that crisis may have an impact for generations to come. The stakes are high. Win or lose, the American people deserve to know that we fought to make their voices heard. That's what I came here to do.
The opinions expressed in this commentary are solely those of Jason Chaffetz.
E-mail to a friend