Editor's note: Campbell Brown anchors CNN's "Campbell Brown: No Bias, No Bull" at 8 p.m. ET Mondays through Fridays. She delivered this commentary during the "Cutting through the Bull" segment of Thursday night's broadcast.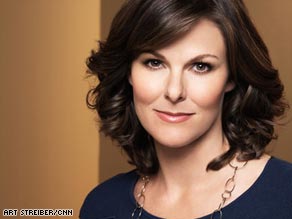 CNN's Campbell Brown shares a portion of Attorney General Eric Holder's speech on race.
(CNN) -- We got strong feedback from many of you after we showed you what Attorney General Eric Holder had to say about race in America yesterday. Holder struck a chord with some, but not everyone after calling us "a nation of cowards" for avoiding a real dialogue on the racial divide.
Take a look at some of the e-mail we got:
Alfred in Virginia writes, "Holder's comments inflame unnecessarily and are counter productive to his desired goal ..."
Lou in Florida says, "You and Holder are idiots! The only cowards are those in the media who feel an urge to be politically correct. This country elected a person of multiple ethnicity to its highest office. What more does this country have to do to demonstrate our color blindness?"
'No Bias, No Bull'
Get the latest on the day's main events.
8 ET Monday through Friday

Jerry in Massachusetts: "Holder's speech was divisive and plays right into the hands of people who benefit from keeping us all divided."
But there was also support for Holder. A viewer who simply calls herself "Dr. Garcia" writes that as a black woman, "listening to the attorney general, I felt his words were my words. Talk is cheap. The attorney general is exactly right. Let's stop fooling ourselves that stereotyping, racial inequalities and majority preference does not exist. Let's learn to communicate and get over it. ... We will never go back."
Holder's comments didn't stop there. While he wants to use February's Black History Month as a tool to get the conversation going, he calls it a testament to a problem that has afflicted blacks since they first arrived in this country.
Attorney General Eric Holder:

"Black history is given a separate, and unequal, treatment by our society in general and by our educational institutions in particular. As a former American history major I am struck by the fact that such a major part of our national story has been divorced from the whole. For too long we have been too willing to segregate the study of black history. But we have to recognize that until black history is included in the standard curriculum in all of our schools and becomes a regular part of all our lives, it will be viewed as a novelty, relatively unimportant and not as weighty as true American history."
The opinions expressed in this commentary are solely those of Campbell Brown.
E-mail to a friend

All About Eric Holder • U.S. Office of the Attorney General