(CNN) -- Newly minted New York Sen. Kirsten Gillibrand remains a mystery to millions of her constituents and is facing a possibly titanic 2010 Democratic primary fight, according a new survey.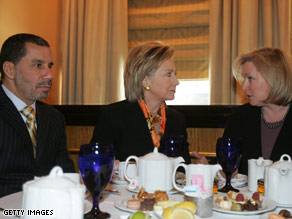 Gov. David Paterson chose Rep. Kirsten Gillibrand to fill Secretary of State Hillary Clinton's old Senate seat.
Gillibrand, a little-known upstate congresswoman before being tapped to fill Hillary Clinton's Senate seat in January, trails potential primary challenger Rep. Carolyn McCarthy by 10 points, 34 percent to 24 percent, in the Quinnipiac University poll released Tuesday.
A plurality of state Democrats -- 39 percent -- refused to choose either potential candidate, a partial reflection of the fact that McCarthy also remains a question mark to most New Yorkers. Roughly two-thirds of New York voters have not heard enough to register an opinion of Gillibrand or McCarthy.
"Sen. Gillibrand needs to keep up her get-acquainted campaign," Quinnipiac polling director Maurice Carroll said. "But as of today, voters don't know much about [either woman]."
McCarthy has been vocal about her sharp disagreement with Gillibrand on the issue of gun control.
A staunch gun-control advocate, McCarthy entered politics after her husband was killed by a gunman on a Long Island commuter train in 1993. Gillibrand, a strong supporter of gun rights, has been endorsed in her past congressional runs by the National Rifle Association.
"I think [Gov. David Paterson] is making a very bad choice as far as picking someone who in my opinion doesn't represent New York State," McCarthy said shortly after Gillibrand was selected.
Don't Miss
Gillibrand's position on gun control underscores the fact that while she now represents one of the most progressive states in the country, the former antitrust lawyer and Clinton administration official is not a dyed-in-the-wool liberal.
During her one term in the House of Representatives, Gillibrand was a member of the Blue Dog Coalition, a group of fiscally conservative congressional Democrats. She supported an extension of the Bush administration tax cuts.
Her views were considered a close reflection of her traditionally Republican upstate congressional district, which runs along the eastern side of the Hudson River to largely rural Columbia and Rensselaer counties.
McCarthy, a relatively liberal seven-term Long Island congresswoman, is considered by some political observers to be a more natural political fit for Democrats statewide.
If Gillibrand can hold off McCarthy in a primary, however, she might find the general election campaign to be slightly easier. Gillibrand currently tops Nassau County Rep. Peter King, a possible 2010 Republican challenger for the seat, 42 percent to 26 percent.
The Quinnipiac poll, conducted February 10-15, questioned 1,065 New York state registered voters by telephone. The survey's overall sampling error is plus or minus 3 percentage points.
E-mail to a friend

All About U.S. Senate • Politics • Gun Control