CHICAGO, Illinois (CNN) -- Illinois Sen. Dick Durbin said Wednesday that a Senate ethics panel is investigating Sen. Roland Burris after his disclosure that he had spoken with the brother of Rod Blagojevich about raising money for the disgraced former governor while seeking appointment to the Senate.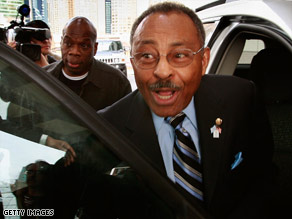 Sen. Roland Burris of Illinois is facing pressure to step down in leading newspaper editorials.
Still, the Illinois senator insisted Wednesday that he was innocent of any wrongdoing, even as calls for his resignation intensified.
"I've done nothing wrong, and I have absolutely nothing to hide," Burris said in a speech to the City Club of Chicago. "You know the real Roland ... Stop the rush to judgment."
The Sangamon County, Illinois, state's attorney is also considering whether to file perjury charges against Burris.
Burris told reporters earlier in the week that he informed Blagojevich's brother Robert in November that no one was willing to give to the governor and that it would be inappropriate to raise money because he was interested in being appointed to the Senate.
During his testimony under oath in Blagojevich's impeachment trial, however, Burris failed to mention any such conversations when asked about contacts with the governor's office. He later acknowledged that his testimony might be incomplete and filed an affidavit correcting it.
Burris said Wednesday that while he did not hide his desire to be appointed to the Senate, he never had a conversation about a possible Senate appointment with anyone close to Blagojevich other than the former governor's attorney.
He also insisted no one from Blagojevich's office contacted him to discuss a potential appointment.
"The governor's brother reached out to [me] to do fundraising," Burris conceded. "But I did not give one single dollar to the governor."
"I welcome the scrutiny [and] will continue to be transparent," Burris added. "What I will no longer do after today ... is engage the media and have facts drip out in selected sound bites."
But later Wednesday, fellow Democratic Durbin was questioning his story and calling state and federal inquiries into the case appropriate.
"Every day there are more and more revelations about contacts with Blagojevich advisors, efforts at fundraising and omissions from his list of lobbying clients," Durbin said in a written release. "This was not the full disclosure under oath that we asked for.
"These news reports and the public statements by Roland Burris himself are troubling and raise serious questions which need to be looked at very carefully."
Burris' latest remarks came less than 24 hours after the Chicago Tribune, the largest newspaper in Illinois, joined The Washington Post in calling for the senator's resignation.
The Tribune said Tuesday night on its Web site that with Burris' explanations of his dealings with Blagojevich, "the benefit of the doubt had already been stretched thin" and that, with his most recent comments, "(i)t finally snapped like a rubber band, popping him on that long Pinocchio nose of his." iReport.com: Should Burris resign?
"There is only one honorable action for Burris: resign," the paper wrote. "Strip this whole wretched process out of the hands of the politicians and give it back to the people."
Meanwhile, The Washington Post argued on its editorial page Wednesday that, "This latest revelation makes a mockery of his professions of no quid pro quo."
"It is a violation of the public trust. The people of Illinois have suffered enough. Mr. Burris should resign," the Post declared.
Rep. Phil Hare, a Democrat from western Illinois, was the first member of Congress to publicly call on Burris to step down, describing the ongoing Blagojevich saga as "a recurring nightmare."
"Given this latest revelation, I believe it is in the best interest of all Illinoisans that Senator Burris resigns," Hare said in a statement. "Our state and its citizens deserve the whole truth, not bits and pieces only when it is convenient."

In a terse statement, a spokesman for Senate Majority Leader Harry Reid, D-Nevada, said, "Senator Reid supports Senator Burris' decision to cooperate with all appropriate officials who may review this matter, including state agencies and the Senate Ethics Committee."
Burris has said that he would "welcome the opportunity to go before any and all investigative bodies including those referred by Illinois Attorney General Lisa Madigan and the Senate Ethics Committee to answer any question they have."
E-mail to a friend

CNN's Peter Hamby, Brianna Keilar and Dierdre Walsh contributed to this report.
All About Roland Burris • Rod Blagojevich • Dick Durbin