(CNN) -- The largest newspaper in Illinois on Tuesday called for U.S. Sen. Roland Burris to resign, a day after Burris detailed several conversations with impeached Gov. Rod Blagojevich's brother he had failed to mention under oath.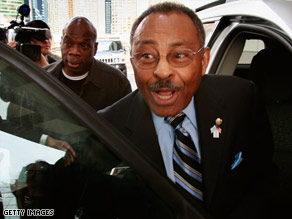 U.S. Sen. Roland Burris leaves a news conference on Sunday in Chicago, Illinois.
Burris, appointed by a scandal-wracked Blagojevich to fill the rest of President Barack Obama's Senate term, told reporters in Peoria, Illinois, Monday night that he had three conversations with Robert Blagojevich.
In them, he said he discussed possibly raising money for the governor before ultimately declining.
Burris said he had "talked to some people about trying to put a fundraiser on," but told Robert Blagojevich shortly after Obama's election that no one was willing to give.
In a third conversation, he finally said it would be inappropriate to raise money because he was interested in being appointed to the Senate.
In an editorial posted on its Web site Tuesday night, the Chicago Tribune said that with Burris' explanations of his dealings with Blagojevich, "the benefit of the doubt had already been stretched thin" and that, with his most recent comments, "(i)t finally snapped like a rubber band, popping him on that long Pinocchio nose of his."
"There is only one honorable action for Burris: resign," the paper wrote. "Strip this whole wretched process out of the hands of the politicians and give it back to the people."
Blagojevich had been indicted on federal corruption charges, including accusations that he wanted to sell Obama's Senate seat to the highest bidder, before he appointed Burris.
On Tuesday, Burris again told reporters he's done nothing wrong.
"I have made an effort to be as transparent as I can, and I'm willing to take a further step as I have nothing to hide," he told reporters, reading from a prepared statement.
"I welcome the opportunity to go before any and all investigative bodies, including those referred by Illinois Attorney General Lisa Madigan and the Senate Ethics Committee to answer any question they have." iReport.com: Should Burris resign? Share your thoughts
The editorial comes days after Illinois Republicans began calling for a perjury investigation because Burris did not mention the calls in his testimony during Blagojevich's impeachment trial. Burris has said that he acknowledged at the time that his report might be incomplete and that he filed an affidavit later correcting it.
The paper's call came Tuesday as federal lawmakers suggested the possibility that the Senate's ethics committee could launch its own investigation.

Watch CNN's Kitty Pilgrim discuss the situation »
In a terse statement, a spokesman for Senate Majority Leader Harry Reid, D-Nevada, said, "Sen. Reid supports Sen. Burris' decision to cooperate with all appropriate officials who may review this matter, including state agencies and the Senate Ethics Committee."

The Ethics Committee routinely does not comment on pending investigations, and a spokeswoman would not say Tuesday whether a complaint has been filed against Burris.
"Whenever allegations of improper conduct are brought to the attention of the Senate Ethics Committee, we open a preliminary inquiry," said Natalie Ravitz, spokeswoman for committee Chairwoman Barbara Boxer, D-California.
E-mail to a friend

CNN's Brianna Keilar contributed to this report.
All About Roland Burris • Rod Blagojevich