By Gloria Borger
CNN Senior Political Analyst





WASHINGTON (CNN) -- When Dick Cheney was still vice president -- and the extent of the Wall Street financial crisis was becoming increasingly clear -- he made an appearance before Senate Republicans to push for the bank bailout.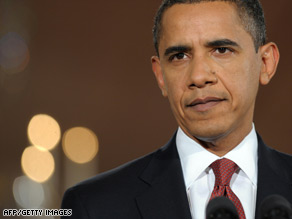 President Obama should continue to preach patience and hope the public continues to trust him, Gloria Borger says.
Support the measure, he warned Republicans (according to reports from inside the meeting), or it'll be "Herbert Hoover" time.
That, as you might imagine, was not a warm and fuzzy message: If you don't pass this spending, the party would be responsible for heading the country into a deep depression.
Lots of Republicans balked and opposed their lame-duck administration. But in the end, the president -- receiving support from Democrats and some Republicans -- got what he wanted.

Watch Obama adviser explain stimulus »
Ah, but now the world is different. Republicans don't run Washington anymore. They don't feel responsible anymore. And they're looking for a way back into the hearts of the voters. That is, their voters.
Suddenly, doing nothing seems much more attractive.
Or is it?
Here's what happened to the GOP after it voted almost unanimously -- save for three moderate GOP senators -- to oppose the stimulus package: nothing.
President Obama's poll numbers continued at a stratospheric 60-plus percent approval; GOP numbers remained at about 31 percent. And although some (well-deserved) Republican criticism of the stimulus as not targeted enough did bring the measure's public approval down to about 50 percent, Republicans themselves gained no advantage with the public for opposing it.
Don't Miss
In fact, it was Obama who gained some advantage for at least trying to be bipartisan.
So now both sides are locked into a Manichean political struggle over the economy. Obama himself has said that if his rescue plans don't work, he'll be toast in four years. And there's always the chance that even if some of them do work, more bad news could obscure their success.

Watch where the stimulus money goes »
As for Republicans, they're in an even tougher place: Their success will be measured by the economy's failure. That's not exactly an optimistic message.
What's more, as their constituents continue to suffer, they could well end up on the wrong side of issues their voters support. That's a very dangerous place to be. And it could well make it more difficult for Republican leaders to impose discipline on their members.
Consider, for instance, the upcoming mortgage bailout plan. It's part of the second installment of the already-approved bank bailout, yet House GOP whip Eric Cantor is still railing against it.
"We just cannot continue to pay for the kind of things that the administration thinks we can," he says.
Of course, he has a point, and everyone knows it: Spending cannot continue at these levels forever. The country has bailout fatigue. As one senior White House adviser told me, "The president has inherited a mess. We need to get out of it. But he understands these deficits are not sustainable over the long-term."
Everyone gets that. That's why the White House has decided to host a "fiscal responsibility" summit next week, to remind voters that it understands the deficit and the debt.
And, if they're really brave, they could even decide to raise the issues of reining in those expensive entitlement programs like Social Security. After all, isn't this the perfect moment to talk about long-term budget savings? Out of crisis comes opportunity.

But for now at least, it's the short-term that concerns both sides. The new president needs to continue to preach patience -- and hope the public continues to trust his judgment on what is best for their economic future. And the Republicans need to convince the voters that their opposition is based on belief, not partisan posturing. On this, both sides can agree: That is the last thing the public wants right now.

Watch Sen. John McCain's criticism of stimulus »
It's no time for Herbert Hoover.
E-mail to a friend

All About Barack Obama • Republican Party • Economic Stimulus