CHICAGO, Illinois (CNN) -- Illinois Republican leaders on Sunday called for a perjury investigation of Sen. Roland Burris, questioning whether he "purposely deceived the public" last month by failing to tell state lawmakers that then-Gov. Rod Blagojevich's brother solicited him for campaign cash.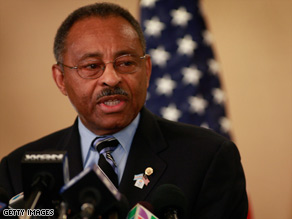 Sen. Roland Burris says he never made an inconsistent statement to lawmakers probing Illinois' former governor.
Burris confirmed Sunday that Blagojevich's brother, Rob, asked him to contribute or help raise money before the governor tapped Burris on December 30 to fill President Obama's vacated Senate seat.
"I made clear to him I would not contribute [to the governor's campaign] because it would be inappropriate because I had expressed my interest in the Senate seat," Burris, a Democrat, said at a news conference. "I did not donate one single dollar."
Burris has come under fire for leaving out the conversations during his January 8 testimony before the Illinois House impeachment panel investigating the governor. He emphasized Sunday that he addressed those conversations in an affidavit he submitted this month to supplement his testimony.
The state House voted overwhelmingly January 9 to impeach Blagojevich, who was arrested a month earlier on federal corruption charges. The state Senate voted January 29 to remove Blagojevich, who federal investigators accused of trying to sell Obama's seat for personal gain.
"I'm very disappointed," state Rep. Jim Durkin said in a statement regarding Burris, posted by the Illinois GOP on Sunday. Durkin headed the Republican questioning of Burris at the impeachment hearing.
Burris' attorney, Tim Wright, said Sunday that the affidavit was submitted after they reviewed the transcripts from Burris' testimony and realized "there was also some additional information we could have offered."
U.S. Senate Majority Leader Harry Reid is aware of the affidavit and is looking into the issue, according to his spokesman, Jim Manley.
"Clearly it would have been better if Sen. Burris had provided this information when he first testified," Manley said. "Sen. Reid is reviewing the affidavit and will await any action by Illinois legislative leaders after they review the matter."
In the affidavit, Burris said the governor's brother called him three times -- once in October and then twice shortly after the November elections -- to "seek my assistance in fundraising for Gov. Blagojevich."
But Burris said that in one of the conversations, he believes the last one, "I mentioned the Senate seat in the context of saying that I could not contribute to Gov. Blagojevich because it could be viewed as an attempt to curry favor with him regarding his decision to appoint a successor to President Obama."
The affidavit does not directly state that Rob Blagojevich solicited funds or give a dollar amount.
However, Burris spokesman Jason Erkes told CNN Saturday that the governor's brother asked Burris to contribute or help raise up to $10,000 for Blagojevich.
Burris says he did not raise or donate any funds for the governor after a June fundraiser. iReport.com: Share your thoughts on Burris allegations
Asked by the impeachment panel who he had talked to among Blagojevich's associates about his desire for the Senate seat, Burris replied he had specifically spoken with Blagojevich's former chief of staff, Lon Monk.
On Sunday, Burris said he didn't mention Rob Blagojevich by name during that January testimony because the questions by Durkin "went in a different direction."
"Throughout my career, I've always conducted myself with honor and integrity," said Burris, a former Illinois attorney general. "I answered all of the questions by the impeachment committee. At no time did I make an inconsistent statement."
CNN Senior Legal Analyst Jeffrey Toobin said that despite Burris' troubles, he probably won't face a perjury indictment.
"At this point, I don't think he has much of a legal problem," Toobin said. "I think a criminal case has to be based on a completely false statement, not an ambiguous statement."
Burris' appointment by Blagojevich was hotly disputed, with some officials contending that no pick of Blagojevich should be honored because of the controversy surrounding the governor. Burris was sworn in January 15 after an extended political battle.
"There's absolutely nothing inappropriate that took place between Gov. Blagojevich and Sen. Burris in connection to the governor's appointment of Mr. Burris to the U.S. Senate," Glenn Selig, publicist for the former governor, said in a statement.
"The governor acted ethically and honestly and believes Sen. Burris did too," Selig said.

Attempts by CNN to contact Rob Blagojevich regarding the alleged fundraising solicitation, first reported by the Chicago Sun-Times, were unsuccessful.
Rob Blagojevich's attorney, Michael Ettinger, told the Sun-Times that Blagojevich spoke with Burris about a fundraiser, but "didn't know [Burris] was in the running for the U.S. Senate seat."
E-mail to a friend

All About Roland Burris • Rod Blagojevich