CHICAGO, Illinois (CNN) -- Democratic former Illinois Gov. Rod Blagojevich's brother asked Roland Burris to contribute or help raise up to $10,000 in campaign cash before Burris was named a U.S. senator on December 30, according to a Burris spokesman.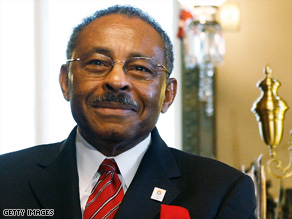 Roland Burris told reporters in January that his appointment has nothing to do with money.
Also, in an affidavit written by Burris and obtained by CNN, Burris said Blagojevich's brother Rob called him after the November elections to ask him to raise funds. The affidavit did not specify a dollar amount.
Burris said he refused to contribute to Blagojevich or to assist in fundraising for him.
Blagojevich's appointment of Burris was hotly disputed, as Blagojevich is facing corruption charges.
Prosecutors accuse him of attempting to sell the Senate seat, vacated by President Obama upon his election, to the highest bidder. He was ousted from office last month by Illinois lawmakers.
Attempts by CNN to contact Rob Blagojveich and representatives of the former governor regarding the allegation, first reported by the Chicago Sun-Times, were not immediately successful Saturday. A woman answering the telephone at Rob Blagojevich's home told CNN he was not available and hung up.
Rob Blagojevich's attorney, Michael Ettinger, told the Sun-Times that Blagojevich had spoken with Burris about a fundraiser but "didn't know [Burris] was in the running for the U.S. Senate seat."
In his January 8 testimony before an Illinois House impeachment panel, Burris, the former Illinois attorney general, said he had no conversations with Blagojevich before the then-governor's arrest about his desire to be appointed to the seat.

Learn more about the Blagojevich investigation »
Burris said in a written affidavit given to the panel that he had only one limited exchange with the governor regarding the seat, at the initiation of a Blagojevich attorney.
Burris also said that he was not aware of any "quid pro quo" with the former governor. "I can for this committee state that there was no legal, personal or political exchange for my seat," he said.
But in a statement released Friday to the Sun-Times along with the affidavit filed February 5, Burris said, "There were several facts that I was not given the opportunity to make during my testimony to the impeachment committee, so, upon receiving the transcripts, I voluntarily submitted an affidavit so everything was transparent."
In the affidavit, Burris said he recalled that Rob Blagojevich called him three times -- in October and then twice shortly after the November elections -- to "seek my assistance in fundraising for Gov. Blagojevich."
Burris said that in one of the conversations, he believes the last one, "I mentioned the Senate seat in the context of saying that I could not contribute to Gov. Blagojevich because it could be viewed as an attempt to curry favor with him regarding his decision to appoint a successor to President Obama."
The affidavit does not directly state that Rob Blagojevich solicited funds or give a dollar amount. However, Burris spokesman Jason Erkes sasid Saturday that the governor's brother asked Burris to contribute or help raise up to $10,000 for Blagojevich.
"I was asked to raise money by the governor's brother and made it unequivocally clear to him that it would be inappropriate and pose a major conflict because I was interested in the Senate vacancy," the statement said.
"I did not donate or help raise a single dollar for the governor from those conversations and would never consider making a donation through a third party."
Burris said in the affidavit that he did not raise or donate any funds for the governor after a June fundraiser.
Asked by the impeachment panel whom he had talked to about the Senate seat, Burris said he had spoken with Blagojevich's former chief of staff, Lon Monk, but did not get a chance to mention anyone else.
"I wish to supplement my answer with other events that I have been able to recall to make certain the record is complete," he said in the affidavit
He mentions conversations with three other people regarding the seat: John Harris, Doug Scofield and John Wyma. The three are identified as "Blagojevich insiders" by the Sun-Times.
Burris said, however, that his conversations with Rob Blagojevich came after talks with those people.
Burris told the Sun-Times that he sent the new statement to Illinois House Majority Leader Barbara Flynn Currie.
Currie initially told the newspaper that she was unfamiliar with the contents of Burris' letter. After being read his account of the Rob Blagojevich phone calls, Currie, a Democrat, told the Sun-Times, "Very odd. I don't know there is anything actionable here, but I would like to check the record."
Illinois Senate Minority Leader Christine Radogno, however, told the newspaper that Burris' new account contains detail that he should have disclosed to the impeachment panel, as well as to U.S. Senate Majority Leader Harry Reid, D-Nevada, before he was seated.
"If it turns out this was some sort of attempt to avoid this coming out as part of the appointment process, then he doesn't deserve to be senator," Radogno, a Republican, told the Sun-Times. "I think the whole thing stinks to high heaven."
Burris was sworn in January 15 after an extended political battle regarding his seat.

The Senate initially refused to seat him, citing a 125-year-old Senate rule requiring the secretary of state's signature to certify an appointment.
Illinois Secretary of State Jessie White had refused to sign the appointment certificate because of the controversy surrounding Blagojevich. But the Illinois Supreme Court ruled that White's signature was not necessary for the appointment to be valid.
E-mail to a friend

All About Rod Blagojevich • Roland Burris • Springfield (Illinois)