From Lauren Kornreich
CNN






WASHINGTON (CNN) -- President Obama is riding on high approval ratings, despite a number of failed high-profile nominations that have caused headaches for the young administration.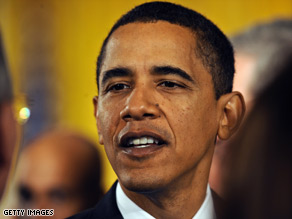 President Obama has had several Cabinet nominees withdraw their bids.
Obama stumbled a bit in his first few weeks as three of his high-profile nominees came under fire for failing to pay taxes and one took himself out of the running over policy disagreements.
The latest disappointment for the president happened Thursday when Republican Sen. Judd Gregg, Obama's pick for secretary of commerce, withdrew his name because, he said, he and Obama had "irresolvable conflicts" over the stimulus package and the upcoming census.
Gregg said that "nothing about the vetting process played any role in this decision," and he acknowledged that withdrawing now is "really unfair in many ways."
An editorial in the Kansas City Star published Thursday called this "another embarrassment for Obama -- and for Gregg" and said this shows that "true bipartisanship in Washington is darn hard to achieve."
But Nathan Gonzales, political editor of the Rothenberg Political Report, called Gregg's withdrawal a "side issue compared to how he's handling the economy."

Watch more on Gregg's withdrawal »
"I don't think the average person will see it as good news for Obama that he lost another Cabinet appointment," Gonzales said. "But I don't think their overall confidence in Obama is going to be shattered."
Don't Miss
Over the past few weeks, two other nominees have withdrawn their names from consideration: Former Sen. Tom Daschle, Obama's pick for health and human services secretary, and Nancy Killefer, his pick for chief performance officer. A third, Treasury Secretary Timothy Geithner, squeaked through the confirmation process. All three had failed to pay all of their taxes.

Interactive: Other Cabinet nominees that have dropped out »
Jim Earnhardt, the community conversations editor at the Montgomery Advertiser in Alabama, said that in his state, which voted heavily for Sen. John McCain, people are angry because the nominees got away with not paying their taxes.
"I've gotten letters to the editor saying if I hadn't paid my taxes, it wouldn't be an oversight, it would be a violation of the law," Earnhardt said. "There's a feeling that if they hadn't been nominated, they would've gotten away with it."
Despite these hiccups, Americans overall still have a very positive view of the new president, with 76 percent saying they approve of the way Obama is handling his job, according to a CNN/Opinion Research Corp. poll released Monday. This is a drop from an 84 percent approval rating before his inauguration, but most presidents' numbers fall as soon as they move into the Oval Office. Read more about the poll
"Americans are more concerned about the economy, and that may be crowding out other issues," said Keating Holland, CNN polling director. "It's also possible that Americans have gotten used to the idea that some Cabinet nominations will hit a snag. When it happened to Bill Clinton in 1993, it was still a fairly novel event. Sixteen years later, it may seem like business as usual in Washington at the start of a new administration."
Glenn Sheller, the editorial page editor of the Columbus Dispatch, said people are angry that the nominees were able to get away with not paying their taxes, but they're not holding it against Obama at this point.
"He's at such an early stage, if he makes a couple of mistakes, people won't hold it against him," Sheller said. "They only will if it becomes a pattern of mistakes."
Some editorials said that in the future, what will matter to most Americans is whether or not health care reform passes, not that Daschle withdrew his name.

Watch analysts weigh in on Obama's Cabinet troubles »
An editorial in the Kansas City Star on February 4 called the presidency a "marathon, not a sprint." Barb Shelly, columnist and editorial writer for the newspaper, said the only reason people in Kansas care about Obama's nominees is that their governor, Kathleen Sebelius, is rumored to be on the short list for Daschle's replacement, but that most in her area can't name most members of the Cabinet so far.
"You can't take a job as a schoolteacher and be up and running in two weeks without glitches," Shelly said. "People are not buying into the notion that something that big is going to go smoothly."
Obama took ownership of the mistakes right away in a round of network interviews last week, telling CNN, "I think I screwed up."
"I don't want to send a message to the American people that there are two sets of standards, one for powerful people and one for ordinary folks who are working every day and paying their taxes," he said.

The Oakland Tribune on Sunday called Obama's comments "refreshing" and praised him for having the "fortitude and honesty" to admit he made an error, especially after former President Bush's secretive tenure. The editorial said that people will forgive their leaders for making mistakes if they are open and truthful, and that "admission of error is infinitely preferable to lying or blaming others."
"Stonewalling, secrecy and lack of personal responsibility are among the failings of poor leaders," the editorial said. "Openness, willingness to listen to others and candid admission of errors are the hallmarks of good leaders. We are fortunate that Obama has taken the latter course."
E-mail to a friend

All About Barack Obama • Judd Gregg • Thomas Daschle