By Alexander Mooney
CNN






WASHINGTON (CNN) -- Louisiana Gov. Bobby Jindal is set to deliver the Republican response to President Obama's upcoming joint address to Congress, a high-profile slot the party often gives to one of its rising stars.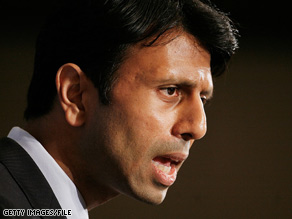 Louisiana Gov. Bobby Jindal, 37, will give GOP response to President Obama's address to Congress this month.
"Gov. Jindal embodies what I have long said: The Republican Party must not be simply the party of 'opposition,' but the party of better solutions," House Minority Leader John Boehner said in a Wednesday statement.
Jindal, a former congressman in his first term as Louisiana's governor, was widely believed to be on Republican presidential nominee John McCain's short list for vice president, and he often served as a campaign surrogate on the Arizona senator's behalf.
The 37-year-old son of Indian immigrants also was given a prime-time speaking slot at the GOP convention last September, though he ultimately decided not to attend the four-day event as Hurricane Gustav headed for landfall in his state.
An Ivy League grad and Rhodes Scholar, and his state's first nonwhite governor, Jindal has long been on the GOP's radar screen as a potential future leader and likely presidential candidate. And as the GOP is launching full-scale efforts to appeal to nonwhite voters, Jindal has become one of the party's most high-profile minorities.
"His stewardship of the state of Louisiana, dedication to reforming government and commitment to bringing forth new and innovative ideas make him a leader not just within the Republican Party, but in our nation as a whole," Boehner also said of Jindal on Wednesday.
Jindal, who became governor two years after Hurricane Katrina ravaged Louisiana, has drawn praise for spearheading the ongoing recovery efforts.
"When you look at major statewide offices Republicans have won over the past three years, there is one, Louisiana," said Alex Castellanos, a CNN contributor and Republican strategist. "In a state where we lost confidence in government, perhaps more than any other state, he restored it and cut taxes."
Though he is often mentioned as a likely contender for the 2012 Republican presidential race, Jindal has said his current focus is on winning reelection in 2011.
Jindal also said late last year that even if he were considering running for president, now is the time to support the sitting president.
"It doesn't matter whether you're Republican, Democrat or independent, it doesn't matter whether you voted for him or not, President-elect Barack Obama is our president," he said.
The White House announced on Tuesday that Obama will deliver the annual State of the Union address to both houses of Congress on February 24.
In 2008, Democrats tapped Kansas Gov. Kathleen Sebelius -- then considered to be a possible vice presidential candidate -- to give the rebuttal speech to former President Bush's final State of the Union address.
Other Democrats who delivered responses to Bush's State of the Unions include Virginia Sen. Jim Webb, Virginia Gov. Tim Kaine, and former Washington Gov. Gary Locke, the nation's first Chinese-American governor.
The last Republican to deliver a response to a State of the Union address was Maine Sen. Susan Collins in 2000.
E-mail to a friend

All About Bobby Jindal • Barack Obama • Republican Party