WASHINGTON (CNN) -- The president of a peanut company and a plant manager accused of knowingly distributing contaminated food refused to answer questions posed by members of Congress on Wednesday, citing their Fifth Amendment protection against self-incrimination.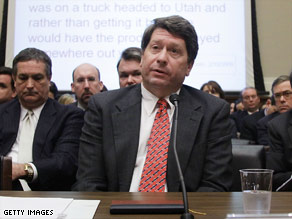 Stewart Parnell, president of Peanut Corp. of America, refuses to answer congressional questions Wednesday.
The testimony of Stewart Parnell, president of the Peanut Corp. of America, and Sammy Lightsey, manager of the company's Blakely, Georgia, plant, before a House Energy and Commerce subcommittee lasted less than 10 minutes.
Neither man had an opening statement. Asked whether it was their intention to cite constitutional protection in refusing to answer all the questions posed by the committee, both men said it was.
It was the only question they answered; Parnell cited constitutional protection even when asked whether he had heard members of a previous panel testify.
Rep. Greg Walden, R-Oregon, brandished a container sealed with yellow "caution" tape.
"In this container are products that have your ingredients in them, some of which were on the recall list, some of which are probably contaminated," he said. "It seems like, from what we've read, you were willing to send out that peanut base [that] went into these ingredients.
"And I just wonder, would either of you be willing to take the lid off and eat any of these products now, like the people on the panel ahead of you, their relatives, their loved ones did?"

See where people have gotten sick »
Don't Miss
Just before Parnell and Lightsey refused to testify, anguished family members representing victims of a salmonella outbreak traced to PCA pleaded with committee members to take action to protect the nation's food supply. The outbreak has killed nine people and sickened more than 600 in 43 states.
News of the ninth death, an elderly woman in Ohio, came as the hearing was being held.
"It's imperative that Americans trust their health is not compromised by the food on their plate," said Jeff Almer, whose mother, Shirley, died December 21 after eating contaminated peanut butter. "Our family feels cheated. My mom should be here today."

Watch why Almer says a crime was committed »
Lou Tousignant told lawmakers his father, Clifford, 78, a decorated Korean War veteran, also died from salmonella linked to peanut butter.
"We should not be sitting here in front of you today, any of us," he said, adding that stories of food contamination are not new. "How can we truly be leaders of the free world if we can't keep our own citizens safe from the food that we eat every day?"
"This was not an accident," said Peter Hurley, a Portland, Oregon, police officer whose 3-year-old son was sickened by salmonella after eating his favorite peanut butter crackers. "It sickens me to no end that a company and its employees could knowingly allow tainted product to go out the door and into the nation's food supply. Does no one have a conscience anymore?"

Learn about foodborne illness »
He likened the situation to a police officer putting a loaded gun to someone's head, pulling the trigger and then saying he hoped the bullet in the chamber wouldn't fire.
Members of the committee said they share relatives' outrage.
"We are shocked at what's been going on in this country on food issues," said Rep. Henry Waxman, D-California, the committee chairman. "What this committee needs to do is find out the truth, hold people accountable and make sure it doesn't happen again."
The company previously has said it shipped suspect products only when subsequent salmonella tests came back negative. But, Walden said, a later negative result should never negate the initial positive finding.
Lawmakers cited a Food and Drug Administration report as proof that PCA cared more about its bottom line than about food safety.
Documents obtained by the committee include an October 2008 e-mail from Parnell to Lightsey, a response to Lightsey's notifying Parnell of a positive salmonella result and recommending a shipment be placed on hold.
"We need to discuss this ... the time lapse, besides the cost is costing us huge $$$$$," Parnell's response reads in part. The e-mails are posted on the committee's Web site.
Asked by lawmakers to look at that e-mail, Hurley said, "as a police officer, I can unequivocally say that it's criminal."
Parnell was not in the audience to hear victims' relatives testify.
Rep. Anthony Weiner, D-New York, issued a statement earlier this week in which he called for the prosecution of PCA executives.
"This is more than a simple lapse of regulations and incomplete paperwork," Weiner, a member of the House Judiciary Committee, said. "This appears to be a case where someone willfully sent tainted food across the nation, including to children, and we know now that the results are fatal. These men and anyone else involved in this should face jail time."
In visiting the Blakely plant, FDA inspectors found "a facility riddled with unsanitary and unsafe conditions," said Rep. Bart Stupak, D-Michigan, citing the inspector's preliminary report.

Mold was found in a cooler used to store peanut butter products; a live roach and dead roaches were found in a washroom adjacent to a production area; and salmonella was found in two locations, including one only 3 feet from finished peanut butter products.
The salmonella outbreak has led to one of the largest food recalls in U.S. history, encompassing more than 1,000 products.
E-mail to a friend

CNN's Sabriya Rice contributed to this report.
All About Peanut Corporation of America • Food and Drug Administration • Food Safety