By Gloria Borger
CNN Senior Political Analyst





WASHINGTON (CNN) -- It is not unusual for a presidential candidate to try to win friends and influence voters. That's what elections are about, so we tend to excuse political posturing when we see it -- because we have come to expect a certain amount of it. Besides, we like people who pay attention to us.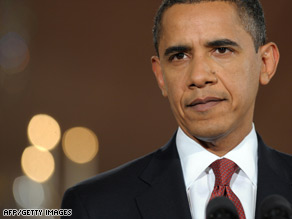 President Obama has chosen pragmatism over ideology as he has navigated the stimulus debate.
But once a president becomes president, we expect other things. We expect him to keep his promises (particularly if we liked them). We expect action and decision. And, most of all, we expect to come to learn who he is, and where he really stands -- by virtue of what he decides.
And what we've been watching over the last few weeks is just that: the very public development of a new president who is more pragmatic than ideological by nature, testing his instincts against the divided realities of Washington.
It's been a balancing act -- in which we've seen President Obama as both cheerleader and Chicken Little, as a partisan Democrat and a bipartisan negotiator and, finally, as both an insider leading a well-worn Washington-dominated Cabinet and an outsider railing against Washington's business as usual.

Watch what happens next with stimulus »
In many ways, the deck has been stacked against the president's instincts: Washington hasn't been hospitable to bipartisanship for decades.

Watch senators debate the stimulus plan »
Whether it's gerrymandered congressional seats, the hot culture wars or even, more lately, harshly divided economic theories, the parties have very little in common -- or very little interest in finding the middle ground. That's why there are so few self-proclaimed moderates in the Congress. And that's also why just three of them became the pivot point in the passage of the economic stimulus plan.
Think of it this way: GOP Sen. Susan Collins is the political equivalent of ex-Supreme Court Justice Sandra Day O'Connor.
So what have we learned about Obama? We know he attempted to work with Republicans of all persuasions at first -- because that is what he promised to do -- until he reached the ideological divide. After all, what's Obama's comeback when Republican leaders start to offer revisionist history arguing that the New Deal was a failure? Or that tax cuts could solve all of our problems?
The president finally decided to decide, because he had no choice. If you're an ideological Republican, you might feel rejected. But, as Obama might remind you, he did win the election.
And he won his stimulus package in the Senate on Tuesday. But there is no gloating, because now the president will be tested yet again -- with his own party in the House, angered that moderate Republicans had a veto over some of the stimulus spending. My bet is the pragmatist shows up, asking Democrats to sacrifice for the greater good, and they do what he wants. At least this time.

We've also seen in this new president a seriousness of purpose --statements of gloom have become matters of fact -- that takes some getting used to.
We like our leaders to be inspirational, and no doubt Obama can be that. But lately "the fierce urgency of now" is more about sobering up than looking to the stars.
E-mail to a friend

All About Barack Obama • Susan Collins • Democratic Party