WASHINGTON (CNN) -- As President Obama warned of "catastrophe" if the government doesn't spend more than $800 billion to recharge the failing economy, some lawmakers equated the measure to "theft."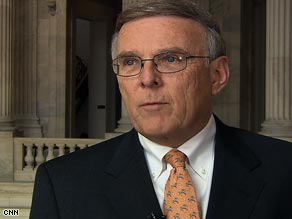 Democratic Sen. Byron Dorgan wants more transparency in how stimulus money will be spent.
"This is more money that's ever been contemplated in the history of our country," said Democratic Sen. Byron Dorgan.
Republican John McCain calls the bailout "generational theft," a transfer of wealth from future generations to today's leaders.
"We are robbing future generations of Americans of their hard-earned dollars because we are laying on them a debt of incredible proportions," he said.
The numbers are staggering. Obama's package is more than $800 billion. President Bush's bailout plan was $700 billion. Add to trillions promised by the government in loans and potential spending to soothe the financial crisis. It all equals a mind-boggling sum, not including the interest on all that money.
President Obama appeared before a national audience Monday night to make the case for the roughly $838 billion economic stimulus plan.
"My bottom line is to make sure that we are saving or creating 4 million jobs, we are making sure that the financial system is working again, that homeowners are getting some relief," he said.
"Do we know how that money is being managed? No," said Dorgan who is proposing that the government institute a system to show how every penny is spent.
Don't Miss
"That's the real scandal here," he said. "There ought to be complete accountability, complete transparency."
"Fighting a war without paying for it. Letting the banks be run like casinos on their own account," Dorgan continued. "Is that theft? You're damn right is is. That fact is none of us have been here before. And nobody in the country really understands what is the right medicine to fix what is wrong with this economy."

But the risk of doing nothing is far greater than the current price tag, some economists contend.
"The single worse thing that can happen when the economy gets mired down is to sit on the sideline, pull back, start acting like a scared household, because that's the recipe for a recession that lasts a decade rather than three years," said Josh Bivans of the Economic Policy Institute.
E-mail to a friend

All About Barack Obama • National Economy