By Mary Grace Lucas
CNN





ARLINGTON, Virginia (CNN) -- Education Secretary Arne Duncan told students and educators at a Virginia high school Tuesday that he'll fight to put $20 billion in education construction funding back into the $838 billion economic stimulus package, as President Barack Obama wants.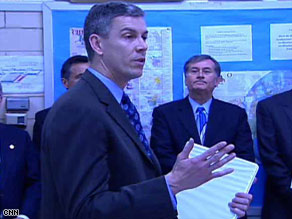 Education Secretary Arne Duncan visits with students at Wakefield High School in Arlington, Virginia, Tuesday.
Wakefield High School in Arlington was scheduled to be renovated next year, but that project has been pushed back at least until 2013, due in part to lack of funding, school officials said.
During his visit to an advanced placement study group in government and economics, Duncan asked students about building conditions.
"It's pretty bad," a student responded. One student said the temperature in a classroom had reached 96 degrees.
Duncan responded by giving an impromptu student civics lesson, detailing recent Capitol Hill wrangling over education funding.
"This week, there's obviously lots of debate between -- a conference between -- the House and Senate," he told the students. "A chance to get a huge amount of money to help our construction projects. There's a chance of no money. So, we're working really, really hard to make sure the right thing happens."
Duncan later spoke to an audience of students, parents and teachers, addressing changes made by the Senate to the stimulus package passed days ago by the House of Representatives.
"Right now, there's zero dollars in the Senate bill," he said, referring to construction funds for schools.
"That to me is staggering. It makes no sense to me that we don't see the huge stimulative impact of putting people to work now, with tremendous unmet need well beyond that $20 billion. And there's nothing more we can do than create facilities that our students need so they can learn and reach their full potential."
The House version had $79 billion in funding for education. When the Senate bill lowered that to $39 billion, funding for education-related capital investment projects were cut. Duncan said that critically neglects American education facilities, and he cited Wakefield as an example of a building in need.
The Senate bill passed by 61-37 and differences with the House version are being hammered out in a conference committee. Education spending is likely to be a contentious issue during what are already heated negotiations. Many argue that the $39 billion remaining in the bill leaves a good deal of discretionary spending available to states that might wish to move renovation projects along.
Sen. Ben Nelson, a Florida Democrat who played a key role in creating a compromise bill, declined to speculate about whether the funding might be reinstated. iReport.com: Share your thoughts on the stimulus package
But prominent education leaders at Wakefield echoed Duncan's remarks.

"Very simply, we need the House version, which incorporates the school's construction," National School Boards Association Executive Director Anne Bryant said.
"And we are shovel-ready across the nation."
E-mail to a friend

All About Arne Duncan • Economic Stimulus • Education Issues