(CNN) -- President Obama took his pitch for an $838 billion economic stimulus plan to conservative southwest Florida on Tuesday, making a campaign-style pitch to a region hit hard by the current recession.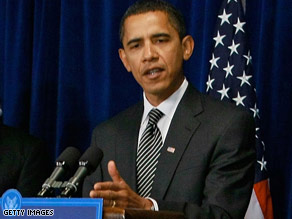 President Obama has spent weeks trying to convince Congress to quickly pass a stimulus plan.
"We can't wait and see and hope for the best. I believe in hope, but I also believe in action," Obama said. "We can't afford to posture and bicker and resort to the same failed ideas that got us into this mess in the first place."
Obama's town hall-style event in Fort Myers, Florida, came as the Senate voted 61-37 to approve the proposed $838 billion economic stimulus bill. Only three Senate Republicans voted for the plan.
The measure will now have to be reconciled with an $827 billion version the House of Representatives passed on January 28.
The president held a similar town hall event Monday in Elkhart, Indiana, another town hit hard by the recession. He expressed the same themes in his first prime-time news conference Monday night.
Southwest Florida is a heavily Republican region that supported GOP nominee John McCain in November's election. But Obama was introduced by Florida Gov. Charlie Crist, a prominent McCain backer who has become one of the few national Republican figures to endorse the stimulus package.
"This is not about partisan politics," Crist said. "This is about rising above that, helping America and reigniting our economy."
The jobless rate in the area is 10 percent, up from 2.3 percent this time in 2006, and the area's foreclosure rate of 12 percent is the highest in the nation.
"We're not just talking about faceless numbers," Obama said. "We're talking about families. We're talking about some of the people in this town hall meeting today -- your neighbors, your friends."
In an interview before the event, Fort Myers Mayor Jim Humphrey told CNN that Congress needed to move quickly on the stimulus bill. Humphrey, a Republican, said he could put money from the stimulus bill to work "immediately" to repair damaged roads and shore up failing water and sewer systems.
"We believe that we could exceed over 400 jobs in just a matter of months if they could move forward and adopt this program, and we can start having some assurance that we will be able to move forward and bid and commence construction," he said.
According to the White House, nearly 12,000 jobs have been lost in Fort Myers in the past year.
To make matters worse, the Cape Coral-Fort Myers area had the highest foreclosure rate in the nation last year, with 12 percent of housing units receiving a foreclosure-related notice. Median housing prices in the Fort Myers metropolitan area have plummeted from $322,000 in December 2005 to less than $107,000 in December 2008, the Obama administration notes.

Watch more on Obama's push for the stimulus plan »
"People are very nervous, maybe even scared," Fort Myers restaurant manager Debbie Kendall said. "Everything is so up in the air."
In Monday night's news conference, Obama admitted that the stimulus plan is "not perfect" but urged Congress to approve it "without delay." He argued that only the federal government has the power to break the "vicious cycle" gripping the U.S. economy, and said the package would create up to 4 million new jobs. He also said that 90 percent of those jobs would ultimately be generated by the private sector, a rebuttal of some conservative critics who say the plan amounts to little more than a government jobs bill.
He has said he wants a final bill on his desk by Presidents Day, which is Monday. iReport.com: Share your thoughts on the stimulus package
Much of the package involves infrastructure spending, long-term energy projects and aid to cash-strapped state and local governments.
Republicans opposed to the plan say it includes too much wasteful spending and too few tax cuts. The measure received no Republican votes in the House of Representatives.

Watch Republicans blasts the president's plan »
Polls show the public is split over the stimulus plan. A slight majority, 54 percent, favor the bill; 45 percent are opposed, according to a CNN/Opinion Research Corp. survey released Monday.

While Obama was pushing for the plan, Treasury Secretary Tim Geithner announced a substantial overhaul of the ongoing federal financial bailout Tuesday.
Among other things, "clear oversight" will be required for the second half of the $700 billion in financial bailout funds, Obama said Monday night.
E-mail to a friend

All About Barack Obama • U.S. National Economy