From Ed Hornick
CNN






WASHINGTON (CNN) -- President Barack Obama will likely make a decision on sending additional troops to Afghanistan "in the course of the next few days," Defense Secretary Robert Gates said Tuesday.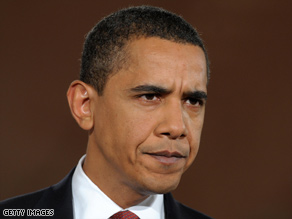 Defense Secretary Robert Gates says the president will make a decision on troop increases soon.
"I think that there is a realization that some decisions have to be made ... before the strategic review is completed," Gates said at a news conference. "He has several options in front of him."
Gates, one of three Republicans appointed to Obama's Cabinet, said the administration will wait until a strategic review of military operations is complete to make decisions on "the strategies going forward."
"I worry a lot about the foreign military footprint in Afghanistan. ... I think and I hope that the strategic review that is under way will sort of point a path forward in terms of what we think the right number, the right size of the foreign military presence in Afghanistan should be," Gates added.
On Sunday, two senior Pentagon officials said decisions about withdrawing troops from Iraq and sending more troops to Afghanistan have been delayed until the Pentagon provides Obama with more detail about the risks and implications of the issues confronting him.

Watch more on the challenges Obama faces in Afghanistan »
Both officials, who asked not to be named because of the sensitivity of the issue, have a direct understanding of the discussion regarding troop withdrawals. They said that the military is not worried about the delays but that there is concern about the deteriorating levels of security in Afghanistan.
Don't Miss
It is believed that thousands of ground combat Marines, a marine aviation unit and Army Special Forces could be sent to southern Afghanistan in the weeks ahead. The officials also confirmed that the Pentagon and U.S. Central Command are working on three Iraq combat troop withdrawal options for the president: 16 months, 19 months and 23 months.
Given the current security situation in Iraq, the U.S. can probably reduce troop level from 14 brigades to 12 by the end of the year, the officials said.
Also Tuesday, the defense secretary addressed a newly released Pentagon report showing Army suicides dramatically up this year.
The Army reported that 24 soldiers are believed to have committed suicide in January alone, six times as many as killed themselves in January 2008, according to statistics released Thursday.
The Army said it has confirmed seven suicides, with 17 cases pending that it believes investigators will confirm as suicides for January.
If those prove true, more soldiers will have killed themselves than died in combat last month. According to Pentagon statistics, there were 16 U.S. combat deaths in Afghanistan and Iraq in January.
"This is terrifying," an Army official said. "We do not know what is going on."
Gates said the military has put a lot of effort into helping troops and their families and said the strain of long deployments is causing much of the stress.
"I think part of the problem in terms of the strains ... whether it's divorce rates or suicides, I would say. ... These are manifestations also of repeated tours," Gates said. "It's not just the length of the tour but the fact that so many have gone back for two or three, even four rotations in Iraq and Afghanistan. I think it's a combination of all those things."

Joint Chiefs of Staff Vice Chairman Gen. James Cartwright, also at the news conference, said the suicide and divorce rates would come down as the tours are reduced.
"That's another benchmark we've got to cross before we can expect to see some of these rates start to move in a positive vector. But I think the bigger issue here is the cumulative effect," he said. "We've got work to do. ... We're watching this very closely."
E-mail to a friend

CNN Pentagon Correspondent Barbara Starr contributed to this report.
All About Robert Gates • Afghanistan • Barack Obama