By Bill Schneider
CNN Senior Political Analyst





WASHINGTON (CNN) -- Could this year's elections for governor in New Jersey and Virginia be an omen of things to come in 2010? They sometimes have been in the past. But you have to know how to read the signs.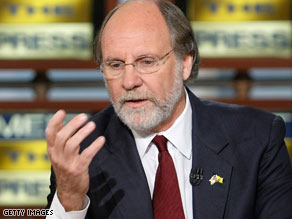 While New Jersey voters approve of President Obama, they don't feel the same about Gov. Jon Corzine.
Republicans are looking to New Jersey and Virginia to show a GOP comeback. Both states now have Democratic governors. Both voted for Barack Obama for president. But Republicans see signs of hope in both races this year.
The latest Quinnipiac College poll in New Jersey shows incumbent Democratic Gov. John Corzine falling behind the leading Republican contender, former U.S. Attorney Chris Christie (44 to 38 percent). Even though 61 percent of New Jersey voters don't know much about Christie. What's that about?
It's about Corzine, in part. Only 41 percent of voters approve of the job Corzine is doing as governor. Just 33 percent say the governor deserves to be re-elected. Are New Jersey voters turning against the Democrats so quickly?
Apparently not. In the same poll, 65 percent of New Jersey voters say they approve of the job Obama is doing as president.

Watch what Americans think of the economic stimulus plan »
In the Virginia race, Republicans are united behind attorney general Bob McDonnell, the only candidate to file for the GOP nomination. Sen. John McCain has said he will campaign for McConnell. Alaska Gov. Sarah Palin has indicated she is willing to help, as well.
Virginia Democrats, meanwhile, face the prospect of a bruising three-way primary between former Democratic National Committee chairman Terry McAuliffe, former state legislator Brian Moran and State Sen. Creigh Deeds. McConnell reports having more than $2 million in the bank, more than twice as much as any of the Democrats.
Virginia has had two Democratic governors in a row -- Mark Warner, who is now a U.S. senator, and Tim Kaine, who now also chairs the Democratic National Committee. Kaine is ineligible to run for another term, but his legacy is clearly at stake in the Virginia race. As national party chairman, Kaine will be in a position to bring money and attention to the Democratic campaign.
Why do both states look problematic for Democrats? Because the economy is bad, voters are angry and Democrats are the incumbents.
In the Quinnipiac poll, more than two-thirds of New Jersey voters said they are dissatisfied with the way things are going in their state. Nearly half (45 percent) say things have gotten worse since Corzine became governor. Only 9 percent say they've gotten better.
We often get a wave of anti-incumbent voting when times are tough. That's what happened in the recession of the early 1990s. In the 1990 midterm, when the economy was beginning to turn sour under the first President Bush, Republicans lost seats in Congress while Democrats lost governors.
There was also a more ominous sign. In the 1990 midterm, congressional incumbents of both parties saw their share of the vote go down, on average. That rarely happens. Usually, if one party's average vote rises, the other party's vote declines. The fall-off in support for both parties suggested a discontented electorate.
That discontent broke into the open in 1992. Incumbent President George Bush was thrown out of office after just one term. Bill Clinton was elected, but with only 43 percent of the vote. Voters expressed their anger, not just by voting out the incumbent, but also by giving 19 percent to Ross Perot, who ran as an independent. It was a year when outsiders were in -- "the year of the woman." Voters elected five new women senators and 24 new women to the House -- the largest increase ever.
Then what happened two years later? 1994 was the year of the "angry white man." In Clinton's first midterm election, voters turned against the incumbent Democrats, throwing them out of power in Congress for the first time in 40 years.

When times are bad, voters get angry. When they get angry, they get unpredictable. They look for political outsiders. independents and third-party candidates suddenly emerge. And incumbents of both parties get in trouble.
Anti-incumbent sentiment clearly helped Barack Obama get elected last year and gave the Democrats big gains. Now the Democrats are the incumbent party. If angry voters are starting to turn against them, we should see the first signs in the Virginia and New Jersey races this year.
E-mail to a friend

All About Jon Corzine • Democratic Party • Republican Party