(CNN) -- Todd Palin and nine aides were found in contempt Friday by the Alaska Senate for failing to appear to testify in the Legislature's "troopergate" investigation of his wife, Gov. Sarah Palin, a spokeswoman for the Alaska Democratic Party said.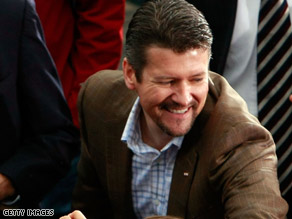 Todd Palin, shown campaigning in Virginia in 2008, didn't testify, but submitted a statement in the case.
But a Senate resolution said no one should be punished, because the 10 did submit statements to the investigator, the Anchorage Daily News reported.
The governor's office did not immediately respond to a request for comment.
The investigation concerns the governor's firing of the state's public safety commissioner, Walter Monegan.
A bipartisan commission in the state Legislature investigated allegations that Palin fired Monegan after he refused to sack her ex-brother-in-law, State Trooper Mike Wooten. The governor, first elected in 2006, has denied wrongdoing.
In court papers, Palin called her sister's ex-husband a "rogue trooper" who threatened the governor's family during a bitter divorce and custody battle.
Complaints from Palin's family led to a five-day suspension for the trooper in 2006 after his superiors found he had illegally shot a moose using his wife's permit, drove his patrol car while drinking beer and used a Taser on his 10-year-old stepson "in a training capacity."
In an interview last year, Wooten said, "I made mistakes. I 'fessed up to them. I was punished appropriately, and I'm moving on."
Palin was Republican Sen. John McCain of Arizona's running mate in his unsuccessful campaign last year for U.S. president.
E-mail to a friend

All About Walter Monegan • Mike Wooten • Sarah Palin