By Pam Benson
CNN





WASHINGTON (CNN) -- Director of National Intelligence Dennis Blair has appointed controversial former CIA Director John Deutch to serve on an advisory panel reviewing the intelligence community's technical capabilities.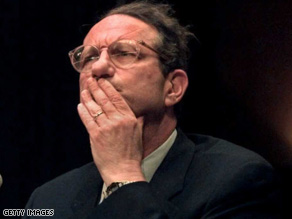 Ex-CIA director John Deutch lost his security clearance in the mid-1990s for mishandling top secret documents.
Deutch, who was President Clinton's CIA director for a year and a half in the mid-1990s, lost his security clearance for mishandling classified information.
At the time Deutch left the agency in late 1996, CIA security officials discovered top secret documents on Deutch's home computer, which was a violation of strict CIA policy.
The 74 classified documents included memos to the president and other cabinet officials as well as classified material from the time Deutch served as deputy defense secretary.
CIA Director George Tenet suspended Deutch's security clearance, the toughest action he could take against the former official. Deutch voluntarily gave up his Pentagon clearance.
Deutch had reached an agreement with the Justice Department to plead guilty to a misdemeanor charge and pay a fine, but before the case was filed, President Clinton pardoned him.
A U.S. intelligence official said Deutch's security clearance was restored in August 2007 by current CIA Director Mike Hayden.
Blair's decision came as a surprise to Leon Panetta at his confirmation hearings to be CIA Director. Sen. Tom Coburn, a Republican from Oklahoma, asked Panetta if he had been aware of the decision and whether he thought it was appropriate.
Panetta responded by saying he wasn't aware, but added, "I think I'd have to sit down and talk with Admiral Blair about just exactly what he had in mind."
When Coburn pressed him further about what kind of message the appointment sends to CIA employees, Panetta responded, "I don't want to jump to any quick conclusions ... but clearly, this is something I need to talk to him about."
E-mail to a friend

All About John Deutch • Central Intelligence Agency