By Jonathan Mann





(CNN) -- They say that nothing is certain in life except death and taxes. The White House ought to send out a memo as a reminder.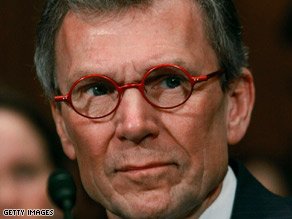 Tom Daschle has stepped aside as the nominee for secretary of health and human services.
Three prominent appointees to Barack Obama's new administration have admitted to under-paying what they owed the government.
Obama offered his first major apology since taking office for failing to take the problem seriously enough.
"I think I screwed up. And, you know, I take responsibility for it and we're going to make sure we fix it so it doesn't happen again."
The first to acknowledge short-changing the U.S. Treasury was none other than the man appointed to head it.
Timothy Geithner was late paying taxes totaling $34,000, because of what he described as an accounting error that he later corrected.
A few senators grumbled when they found out, but the Senate, as a whole, gave his nomination the approval it needed.
As a key figure in the new administration's economic team, coming into office at a time of crisis, there was a consensus that he had to be confirmed.
The next two candidates weren't quite as lucky.
Nancy Killefer was heading to a sub-cabinet job supervising government finances, when she admitted that her own finances had some tax issues. She withdrew her candidacy.
The other casualty was Tom Daschle, a close Obama ally who was poised to become the Secretary of Health and Human Services.
Health-care reform is one of the centerpieces of the president's agenda and Daschle is widely considered an expert.
But he admitted owing taxes of $140,000 that he paid only last month.
Some of those taxes due were for his use of a chauffeured car that a friend offered him for free, a pleasant perk considered as income under U.S. tax law.
At first, President Obama and his supporters spoke out in his defense, but this week Daschle withdrew.
It was a blow to the administration, but keeping him would have been costly in its own way.
Obama himself acknowledged that as a candidate he had promised "change we can believe in" and high ethical standards from members of his administration.
Most people don't expect a free ride from rich friends, or from the tax man. And with two departures and Obama's apology, the signal is sent. It looks like the White House won't need to send out that memo.
E-mail to a friend

All About Barack Obama