WASHINGTON (CNN) -- A Senate committee delayed its confirmation vote for Labor Secretary-designate Hilda Solis on Thursday in order to review a potential tax controversy relating to Solis' husband, two sources familiar with her confirmation told CNN.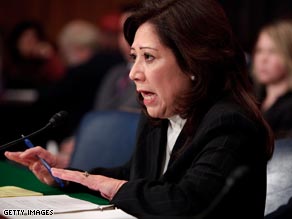 A Senate committee has delayed the confirmation vote for Labor Secretary-designate Hilda Solis.
Sam Sayyad paid $6,400 Wednesday to settle tax liens against his business that had been outstanding for up to 16 years, according to USA Today.
Sayyad plans to appeal because he believes he already paid his taxes in full, a White House spokesman told the paper.
The Obama administration, suddenly on the defensive over tax problems with several Cabinet nominees, was quick to indicate its support for Solis.
"The White House believes that, if you owe taxes, that you should pay them. But at the same time, this obviously is a business that she's not a partner in, and we're not going to hold her responsible," White House Press Secretary Robert Gibbs said.
Don't Miss
"I think he paid the liens back because he owed the taxes," not because of any pressure or direction from the White House, Gibbs said.
The Democratic and Republican leaders of the Senate Health, Education, Labor and Pensions Committee, which is considering the nomination, issued a joint statement Thursday in response to the new controversy.
"Members on both sides of the aisle remain committed to giving her nomination the fair and thorough consideration that she deserves. We will continue to work together to move this nomination forward as soon as possible," said the statement from Sen. Ted Kennedy, D-Massachusetts, the committee's chairman, and Sen. Mike Enzi, R-Wyoming, its ranking Republican.
Treasury Secretary Tim Geithner and former Obama appointees Tom Daschle and Nancy Killefer also failed to pay their taxes properly in the past.
Solis, a California congresswoman, is currently serving her fifth term in the House of Representatives.
A new date for the committee to vote on her nomination has not been set.
E-mail to a friend

CNN Senior Congressional Correspondent Dana Bash contributed to this report
All About Hilda Solis • U.S. Department of Labor • Income Taxes • Jobs and Labor