By Bill Schneider
CNN Senior Political Analyst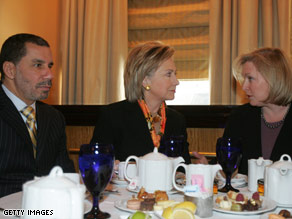 Gov. David Paterson chose Rep. Kirsten Gillibrand to fill Secretary of State Hillary Clinton's old Senate seat.
WASHINGTON (CNN) -- Since the election last November, five vacant Senate seats have been filled by appointments. Awkwardly.
Illinois: Barack Obama's seat. Then-Gov. Rod Blagojevich, who had been arrested on a criminal complaint for attempting to sell the seat, defied the Senate and appointed former Illinois Attorney General Roland Burris. The Senate could find no legal way to block the appointment. Blagojevich was subsequently impeached and removed from office.
New York: Hillary Clinton's seat. Caroline Kennedy campaigned for the Senate and got some rough treatment by the New York media. She lost ground in the polls and ultimately withdrew from the race after becoming the target of anonymous attacks.
Gov. David Paterson appointed Rep. Kirsten Gillibrand, a relatively unknown upstate congresswoman. Asked their opinion of the way Paterson handled the appointment, New Yorkers were split -- 44 percent approved, 42 percent disapproved -- in a Quinnipiac College poll.
Delaware: Joe Biden's seat. Outgoing Gov. Ruth Ann Minner appointed a placeholder to fill the seat until 2010. That's when Biden's son Beau, who was elected attorney general in 2006, returns from National Guard service in Iraq and can run for his father's seat. The appointment of former Biden chief of staff Ted Kaufman amounts to a move to reserve the seat for Biden's son.
Colorado: Ken Salazar's seat. Gov. Bill Ritter passed over several well-known Colorado Democrats and surprised everyone with his appointment of Denver schools superintendent Michael Bennet, who had never run for any office or held a statewide one. Liberal blogger David Sirota criticized the Bennet appointment, saying it shows "what counts is money, insider connections, Ivy League pedigree and a Beltway-padded resume."
New Hampshire: Judd Gregg's seat. President Obama's surprise nomination of Gregg to his Cabinet left a vacant Republican seat in New Hampshire. Many people expected the Democratic governor to name a Democrat to fill the seat, thereby bringing the Democrats within reach of the 60-vote majority they need to cut off filibusters in the Senate. But New Hampshire Gov. John Lynch ended up appointing former Gregg chief of staff Bonnie Newman, a Republican placeholder who has agreed not to run for the seat in 2010. Was there a deal to keep the seat Republican? Yes. Gregg said at his appointment, "I want to thank the governor of New Hampshire for his courtesy and courage and willingness to make this possible through the agreement that we have relative to my successor in the Senate."
Don't Miss
Five seats, five controversies. In an interview with CNN, Sen. Russ Feingold, D-Wisconsin, pointed out, "They used to have state legislators pick the senators. That was a disaster and it led to the 17th Amendment because it was so corrupt."
That amendment, ratified in 1913, provides for the direct election of senators by the people. It also provides that, when a Senate vacancy exists, the governor must call a special election to fill the seat.
But there's a loophole: "The legislature of any state may empower the executive thereof to make temporary appointments until the people fill the vacancies by election.'' Most state legislatures have done exactly that.
Feingold is offering a fix. He told CNN, "It seems to me that there's no reason not to do what we've always done in Wisconsin, which is to have special elections for the Senate just as it is required for all House races in America.''
No one has ever served in the House of Representatives without being elected. The House is proud of that. Members call it "the people's House." In New York, for instance, the Senate seat was filled by the appointment of Rep. Gillibrand, but there will be a special election to replace Gillibrand in the House.
Only four states require special elections with no temporary appointments: Massachusetts, Oklahoma, Oregon and Wisconsin. The other states allow their governors to make appointments, although four of those states -- Arizona, Hawaii, Utah and Wyoming -- require the appointee be of the same party as the departing senator and three of those states (all but Arizona) require the governor to appoint someone from a list prepared by the state party.
Feingold has submitted a constitutional amendment, co-sponsored by Sen. John McCain, that would prohibit Senate appointments and require states to hold special elections. Let the people decide!
In a supporting editorial, The New York Times wrote, "Filling vacant Senate seats through elections would be a worthy change, replacing high-level dealmaking and arbitrary exercises of authority with democracy."
What's wrong with that?
"Special elections are difficult," congressional scholar Tom Mann of the Brookings Institution, said. "They tend not to be particularly competitive. ... It's better to schedule these during a regular election cycle when turnout will be higher and when there is more time, opportunity and resources."
Feingold doesn't buy it. "It works with House races," Feingold said, "so this argument that it doesn't hold for Senate races doesn't really hold water with me."
Since the 17th Amendment was ratified, 183 senators have been appointed to fill vacancies. About a third of them, 62, were placeholders who did not later run for election. About a third, 56, ran and lost. About a third, 60, ran and won, including some, like Walter Mondale and George Mitchell, who went on to distinguished careers.
There is no clear pattern with appointees, except that most do not go on to become elected senators. What we do know is that this year, the appointment process has been extraordinarily messy.
E-mail to a friend

All About U.S. House of Representatives • U.S. Senate • Barack Obama • Rod Blagojevich • David Paterson • Caroline Kennedy • Hillary Clinton • Joseph Biden