By Carly Fiorina
Special to CNN





Editor's note: Carly Fiorina is chief executive of Carly Fiorina Enterprises and former chief executive of HP. She was an adviser to Sen. John McCain's presidential campaign last year.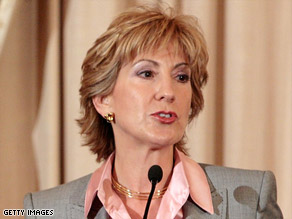 Carly Fiorina says outrage at Wall St. pay is justified but salaries shouldn't be set by government.
(CNN) -- Americans are outraged over excessive CEO pay and perks. That outrage is justified, particularly when American taxpayers are footing the bill.
Our capitalist system works best when there is transparency and accountability. There has been too little of both on Wall Street.
Inevitably, the president and Congress are now attempting to respond to taxpayer anger and restore some "common sense," as President Obama recently declared, to CEO compensation. The proposed solution caps top executive pay at $500,000 for institutions that have received bailout money.
I don't think this is the answer, although it is an understandable reaction. It's arbitrary: Why not $400,000 or $600,000? It's incomplete. It only applies to institutions that will receive more government assistance going forward. And it doesn't strengthen our economy when government decides how much each job is worth. In America we leave that job to markets.
So what's the answer? To strengthen transparency, all aspects of CEO pay and perks should be fully disclosed on a regular basis. This should include airplanes, cars, golf-club memberships, bonuses, stock options, retirement plans and salaries -- in short everything that a common-sense person would consider part of a CEO reward package.

See Fiorina discuss exec pay, including her own »
To strengthen accountability, all aspects of CEO compensation should be voted on by shareholders on an annual basis.
Ultimately, it is the owners of a company who must determine whether a CEO's rewards are justified by a CEO's performance. And because the American taxpayer is now a partial owner in many companies, the government can get a vote as well -- in some cases a very sizeable vote.
Don't Miss
In addition, "clawback provisions," which require a CEO to return compensation to shareholders if promised results aren't delivered, should be standard fare.
Finally, when a company comes to Washington for American taxpayer money, it is an admission that mistakes have been made and major bets have failed. These CEOs should be prepared to tender their resignations and those of their boards. To earn a bailout, a CEO and board should be held accountable.
We should not weaken our economy while trying to fix it. These are difficult times. President Obama has described our current situation as a "crisis" and an impending "catastrophe." In such times, action is required. The key is to take actions that help in the short-term, while also being sensible for the medium and long-term.
Too often our politicians react to crisis and public anger by over-reaching, and they create new, unforeseen problems that only become clear with the passage of time.

In this country, the opportunity to be rewarded for taking prudent risk is fundamental to our economic vitality and strength. Let's not lose that fundamental principle in our outrage over Wall Street greed and excess.
The opinions expressed in this commentary are solely those of Carly Fiorina.
E-mail to a friend

All About Barack Obama • Executive Management • Corporate Governance