(CNN) -- President Obama warned Wednesday that failure to act immediately on his economic aid plan "will turn crisis into a catastrophe and guarantee a longer recession."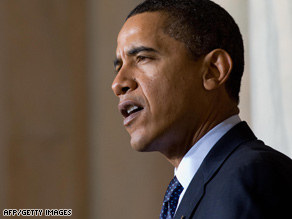 President Obama says Congress must act "without delay" on his economic plan.
"Millions more jobs will be lost. More businesses will be shuttered. More dreams will be deferred," Obama said, as Senate debate continued on amendments to the stimulus package.
The House last week passed an $819 billion version of the plan, but no Republican voted in favor of it. The president has been trying to gain Republican support before the Senate votes on its version of the bill.
Debate on amendments to the bill is expected to last all week in the Senate. A vote could come as early as Friday.
Republicans are calling for a plan with more tax cuts and less spending. They also want more emphasis on helping homeowners. One Republican proposal could double the tax credit for home buying from $7,500 to $15,000.
Obama has said he wants to make sure Republican ideas are incorporated into the final legislation, but he said Wednesday that Congress should "not make the perfect the enemy of the essential" and brushed off recent criticism of the plan.
"These criticisms echo the very same failed economic theories that led us into this crisis in the first place -- the notion that tax cuts alone will solve all our problems; that we can ignore fundamental challenges like energy independence and the high cost of health care; that we can somehow deal with this in a piecemeal fashion and still expect our economy and our country to thrive," he said.
"I reject those theories, and so did the American people when they went to the polls in November and voted resoundingly for change. So I urge members of Congress to act without delay."

Watch senators debate the stimulus package »
Obama says his plan will create or save up to 4 million jobs.

See the state-by-state breakdown »
Sen. Chuck Grassley, R-Iowa, said Wednesday that a preliminary analysis by the Congressional Budget Office shows that the jobs created by the plan being debated in the Senate would cost taxpayers between $100,000 and $300,000 each.
Grassley said those numbers should be compared to those under the January baseline of the CBO, in which there is no stimulus, that show the Gross Domestic Product per worker to be about $100,000.
The new analysis, Grassley said, indicates the cost of each stimulus job could be up to three times more than jobs created without the stimulus bill.
The first attempt to make a change to the economic stimulus package failed Tuesday night, a sign that Republicans do have some power to change how the bill is structured.
Don't Miss
The vote was on adding $24 billion in infrastructure spending on things like highways, mass transit and improvements to water and sewer systems. Had the amendment passed, the Senate's version of the economic stimulus package would have topped $900 billion.
The procedural vote that would have allowed the Senate to waive the budget rules and move forward on the amendment failed.
Democrats needed just two more votes to proceed on the amendment. The provision failed, with a vote of 58 in favor and 39 opposed. A three-fifths majority was required on the motion.
The vote was mostly along party lines. Only three senators broke ranks: Sen. Arlen Specter, R-Pennsylvania, and Sen. Kit Bond, R-Missouri, voted in favor of it; and Sen. Mary Landrieu, D-Louisiana, voted against it.
The Senate on Tuesday approved an amendment introduced by Sen. Tom Coburn, R-Oklahoma, striking the $246 million tax break for Hollywood production companies. The vote was 52 in favor, 45 opposed. A simple majority was needed on the amendment.
"We need to sober up here and take a look at what we're doing. Everybody agrees that there ought to be a stimulus package. The question is: How big and what do we spend it on?" said Senate Minority Leader Mitch McConnell, R-Kentucky.
"The House bill is an embarrassment. The Senate bill on the floor is not markedly better. Our goal will be to pare it down and to target it right at the problem."
The $819 billion bill that passed in the House last week is two-thirds spending and one-third tax cuts.
Much of the $550 billion in spending is divided among these areas: $142 billion for education, $111 billion for health care, $90 billion for infrastructure, $72 billion for aid and benefits, $54 billion for energy, $16 billion for science and technology, and $13 billion for housing.
McConnell on Monday dismissed the idea that Republicans are trying to block passage of the economic stimulus plan.
"Nobody that I know of is trying to keep a package from passing," he said. "We're trying to reform it."
Some Republicans want to take it a step further than their party's leaders. Ten Republican senators, including Sen. John McCain, want more funds -- almost $90 billion -- for infrastructure. They are shopping around a plan with a price tag of just under $500 billion.
That version of the stimulus measure, put together by Florida Sen. Mel Martinez, is broader than the one proposed by GOP leadership, but narrower than the Democratic bill.
The group of Republicans met Tuesday to discuss their plan because they don't believe their leadership's approach, focusing exclusively on the housing crisis and tax cuts, is enough to jump-start the economy.

Another alternative that's getting a lot of attention is a bipartisan plan from Nebraska Democrat Ben Nelson and Maine Republican Susan Collins. The two moderate senators are looking at the current economic stimulus package and trying to scrub it of all spending that they say will not stimulate the economy.
Nelson says the amendment has support from both Democrats and Republicans.
E-mail to a friend

CNN's Brianna Keilar and Kristi Keck contributed to this report.
All About U.S. Senate • U.S. House of Representatives