(CNN) -- Rod Blagojevich, the former governor of Illinois, is still declaring his innocence, despite facing a criminal trial and the prospect of prison.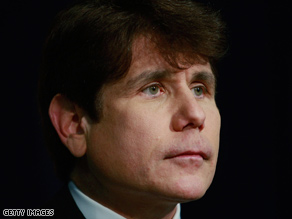 Former Illinois Gov. Rod Blagojevich blames the "phony, hypocritical" lawmakers for his impeachment.
Blagojevich was arrested on federal corruption charges in December. Federal authorities allege Blagojevich, among other things, was trying to sell the Senate seat that became vacant after Barack Obama was elected president.
After the governor's arrest, the state House voted overwhelmingly to impeach him. The state Senate later voted 59-0 to remove him from office.
Blagojevich spoke with CNN's Larry King on Tuesday to discuss the impeachment process and what he thinks the future holds for him. The following is an edited portion of the interview.
Larry King: When you were here the last time, you said you were not going to attend the Senate trial and then you did. Why?
Rod Blagojevich: Well, I did (decide), at the very end, to make a closing argument because a lot of people -- and you, very well, may have been one of them -- rightfully asked, you know, if you feel so strongly about your position, they're not giving you a chance to defend yourself, bring witnesses in, bring evidence in that could show your innocence. Don't you think you should go down there and make the case to them?
And so you persuaded me. Others who said it persuaded me. I felt that -- understanding I was walking into something much like Daniel in the lion's den -- the chances were pretty slim that I'd be able to convince them to bring my witnesses and prove my innocence. I felt if I'm going to go down, I should, at least, beg the case to them.
Unlike the case of Daniel in the lion's den, lions are not cynical. These politicians threw a governor out without proving a single act of wrongdoing, and so I take a certain pride in that.

Watch Blagojevich proclaim his innocence »
King: Are you saying they all were ganging up on you? They all had it in for you?
Blagojevich: I'm saying that there was an agreement between the legislative leaders to get their caucuses and take a caucus position. Everybody in each caucus votes for removal, and they did it after a four-day trial that prohibited a governor elected twice by the people to bring witnesses in that would prove innocence and allow all of the taped conversations and telephone calls that would also prove innocence.
They didn't prove any wrongdoing. That's the other part of this, which is very interesting.
King: So what was their motive?
Blagojevich: Well, you'd have to ask them, but (there were) several factors. One, what happened on the 9th of December -- allegations of a criminal nature create a political dynamic that's very difficult for the Democrats. They'd like to not have to deal with it. The Republicans have a political issue that they certainly want to continue to persist.
As I've said before, there's a real movement among the Democratic establishment in Illinois -- and I'm afraid my successor, Mr. Quinn, is part of that -- to raise the income tax on people. For six years, I fought very hard to keep the special interests and others from raising taxes on people.
My lieutenant governor -- now the governor -- ran with me in two elections. We won. We promised the people of Illinois that we would not raise taxes on them, so I'm calling on him to keep the promise that I kept and don't raise the income tax on the people of Illinois.
King: If you weren't selling the seat, what were you doing?
Blagojevich: When the whole story comes out, there will be a story that's very natural in politics -- different discussions, different idea, different potential candidates considered. Some ideas made sense. Some were stupid -- all conversations. At the end of the day, the story will be a lot of that.
But here again, what they did with this impeachment was they took allegations. They didn't prove any of them. They were not required to prove any of them, and then they didn't allow me to disprove them. I would have brought every witness that was brought into the criminal case. I would have brought in everybody and anybody I ever talked to about the Senate seat from Congressmen to senators to labor leaders to potential candidates.
King: What you're saying is in no case, not ever, not one conversation, were you ever selling that seat?
Blagojevich:Yes, I've said it before. And, again, I can't go into the details of the case. But I'll say it again. I never ever intended to violate any criminal law. I did not violate any criminal law. Nor do I believe anybody in any of those conversations did nor did they intend to do it. But you're right, you know it is emotional when you're not in a position to keep fighting for people.
But I'm a private citizen now. I'm going to rebuild my life and take care of my family. I'm going to clear my name, but I still intend to be a voice to protect those same people -- the average ordinary citizen that's getting screwed by the special interests in Springfield, led by these phony, hypocritical lawmakers who offered me a deal in December to step aside, get my full pay for two years, keep my executive detail if I would leave and not make a Senate pick.
When I refused to do that, I was threatened with an impeachment. I was told that if I made the Senate pick, the impeachment will happen sooner rather than later. Those are some of the undercurrents behind this whole story.
They should have proven something they didn't prove, and as a result, now we've got a precedent that can remove governors in a way that is really unconstitutional.
King: Any regrets, Rod?

Blagojevich: Well, I can't say that I have regrets on this particular episode because I didn't do anything wrong. And when the truth comes out, that will be the case. But looking back at my years as governor, you know, have I made mistakes? Have there been misjudgments? Did I put my trust and faith in some people that betrayed it and were not the people I thought they were or didn't believe in the purpose or the mission that I was on to try to help average ordinary people in our state improve their lives, expand health care?
But in terms of this, you know, I want to apologize. At the same time, I can't apologize because I didn't do anything wrong. Again, when the full story comes out, I think that will be shown.
E-mail to a friend

All About Rod Blagojevich • Illinois