By Rachel Streitfeld
CNN






PIKESVILLE, Maryland (CNN) -- Isaiah Partlow helps his parents with his little sister Maya, flipping to her favorite TV channel and sharing bites of his ham and cheese Hot Pocket.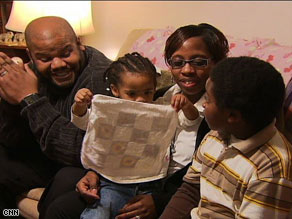 Robert and Kia Partlow use Maryland's Children's Health Insurance Plan.
But when Maya came down with an ear infection, her parents weren't sure how they'd take care of her. They struggled to pay for the 2-year-old's health insurance coverage.
"No matter what happens to me, they're my No. 1 concern, making sure they go to bed healthy every night, waking up healthy every morning," said Robert Partlow, who lost his job, along with his health care benefits, last year.
Partlow soon found a new job, but it pays less and doesn't offer benefits. So he and his wife, Kia, applied for their two children to be covered by MCHIP, Maryland's version of the State Children's Health Insurance Plan (SCHIP).
President Obama signed changes to SCHIP into law late Wednesday afternoon, hours after the House of Representatives voted to pass the bill 290 to 135. Supporters say the program expansion, which was twice vetoed by President Bush for being too costly and unwieldy, will cover almost 11 million children who don't qualify for Medicaid but whose parents cannot afford private health insurance.
The bill expands SCHIP by more than $32 billion over five years.
Don't Miss
"The help is definitely needed. At this day and time, with the economy the way it is, this takes a burden off of you knowing that at least your kids are covered," Robert Partlow said. "No matter what happens, they're covered."
On a busy school morning, Robert and Kia gather in the living room to share breakfast with the kids. Robert has just returned home from his job working a security detail overnight, and Kia is dressed for work.
The family makes about $50,000 a year -- $15,000 less than Robert was making before -- forcing the Partlows to make some tough decisions.
"That would have been a tossup of would we take them to the doctor or put gas in the car then go to work. And we really needed for me to go to work and everything," Kia said. "But that was the choice, the tossup."
When Isaiah, 7, and Maya were accepted into the MCHIP program in November, the notice didn't come a minute too soon. Maya, who suffers from frequent ear infections, had been complaining her ear hurt. Her parents were worried about how they'd pay a doctor's bill without insurance.
"So it was really a blessing to have. It came right on time," Kia said. "Because we wouldn't know what to do if we hadn't been able to afford to take her to the doctor."

Robert applauded lawmakers who voted for the SCHIP expansion.
"I sleep easier knowing that my kids are covered by insurance," Robert said. "And luckily I heard that we had this kind of program that we could turn to for help. It actually took a lot of weight off my shoulders, because I didn't know what I was going to do."
E-mail to a friend

All About Health Care Issues • Barack Obama