(CNN) -- As the stimulus debate heads to the Senate, some lawmakers say the proposed economic rescue plan doesn't represent the bipartisan spirit that President Obama hoped would be behind it.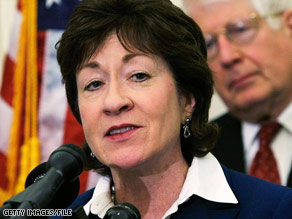 Sen. Susan Collins, R-Maine, says she wants to work on changes to the bill to attract moderate Republicans.
The House passed its version of the bill Wednesday, without a single Republican vote. Democrats admit it's going to be a tough fight to get Obama's economic stimulus plan passed with bipartisan support, but they are optimistic it can be done.
In the Senate, Republicans will have more of an opportunity for compromise, by offering amendments to the Democrats' bill. But it's not just Republicans who are unhappy. Some Democrats said the bill includes too many proposals that do not relate to stimulating the economy.
Sen. Ben Nelson, D-Nebraska, and Sen. Susan Collins, R-Maine, oppose the proposal in its current form and want to slash what they call wasteful spending from the bill, so moderate Republicans and conservative Democrats will be more likely to vote for it.
The two senators, known as consensus builders, have spent the weekend scrubbing the bill of spending that does not narrowly target job and economic growth.

Watch more on efforts for a bipartisan bill »
"Our goal is to have a bill that is both bipartisan and effective. That's what we want. There's no doubt that the American people don't want to see partisan politics in this debate," Collins said Sunday on CNN's "State of the Union."
Nelson told CNN on Sunday that several of the programs in the stimulus bill are unnecessary and won't create jobs.
Don't Miss
"I like parts of it," he said, pointing to funding based on infrastructure, "But there's an awful lot of spending in it that I think is questionable, marginally supportive and stimulative for jobs."
Nelson said it's important to fund things like programs to stop smoking, "but they ought to be part of something else, not part of a jobs stimulus bill."
Collins said Sunday that the bill has become "a Christmas tree where members are hanging their favorite program on it."
"A lot of these programs are worthwhile. But we have to focus on what the impact is on the economy and whether or not the spending creates or saves jobs. That's the question. That's the test that needs to be passed," she told CNN.
Asked if the bill represents Obama's goal of achieving bipartisan consensus, Nelson noted that Obama "didn't put the bill together."
"Was that a mistake?" asked CNN's John King.
"Well, I don't know. It's pretty hard... He has to deal with Congress. So Congress writes the legislation," Nelson responded. "I think what he needs to do, and has been doing, is reach out to everybody to get their ideas. Then he has to decide whether he can support those ideas."
As the House was working on its version of the bill, Obama personally made phone calls to some House Democratic leaders to urge them to remove a family planning provision in hopes of winning bipartisan support. Democrats removed the provision, but it did not help to earn any Republican votes.
Asked if it would be better for the president to offer up two separate bills -- one for job creation and another for programs Democrats think were neglected during the Bush years -- Nelson said that "might be a better way to bifurcate the issues."
"But, at times, you put things together because of the efficiency of getting something done," he said. "And there's no pork in this. Let me say that right away. But there may be some sacred cows."
After a weekend of scouring the bill, Collins said one proposal that she and Nelson both support is increasing infrastructure spending.
"We know that there is a backlog of projects, ready to go, across this country, that will help put people back to work in an industry that's really suffering and it will leave communities with lasting assets that they really need," she said.
The $819 billion version passed in the House is two-thirds spending and one-third tax cuts.
Much of the $550 billion in spending is divided among these areas: $142 billion for education, $111 billion for health care, $90 billion for infrastructure, $72 billion for aid and benefits, $54 billion for energy, $16 billion for science and technology, and $13 billion for housing.
Sen. Jim DeMint, R-South Carolina, says the current economic plan is "temporary" and "wasteful."
"This plan is a spending plan. It's not a stimulus plan," he said Sunday on ABC's "This Week."
Speaking on the same program, Rep. Barney Frank, D-Massachusetts, said an effective plan requires both spending and tax cuts.
"I think we need to fix some highways and bridges. I never saw a tax cut fix a bridge. I never saw a tax cut give us more public transportation. The fact is, we need a mix," he said.
On Thursday night, Senate Majority Leader Harry Reid, D-Nevada, said it is going to be a "long, hard slog" with "late nights" after the $900 billion bill comes to the Senate floor. "It is up to us how long this takes," Reid added. "We hope we can work things out."

The full Senate plans to vote on its version of the bill Wednesday. Should the Senate and House pass different versions, the two bills would have to be conferenced together. Then both chambers would have to vote on the conference version.
The president hopes to have the plan passed by Congress and on his desk for signing by mid-February.
E-mail to a friend

CNN's Kristi Keck and Ed Hornick contributed to this report.
All About U.S. House of Representatives • U.S. Senate • National Economy