WASHINGTON (CNN) -- U.S. Sen. Judd Gregg won't take the job of commerce secretary in the Obama administration if his appointment would tip the Senate balance of power in favor of Democrats, the chamber's Republican leader said Sunday.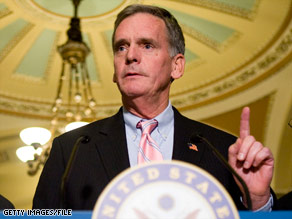 Sen. Judd Gregg is the leading candidate for commerce secretary, an Obama administration official said.
"He's indicated to me that he would not accept this appointment if he believed it would lead to a change in the current makeup of the Senate," Minority Leader Mitch McConnell, R-Kentucky, told reporters.
An administration official told CNN on Saturday that Gregg, a third-term Republican known for being fiscally conservative, is the leading candidate to head the Commerce Department. Gregg, of New Hampshire, said in a written statement Friday that he was among those being considered for the post, and White House spokesman Robert Gibbs said no final decision has been made.
If Gregg moves to the Cabinet, New Hampshire's Democratic governor would appoint a replacement. That could give Democrats the 60-seat majority needed to overcome Republican attempts to use filibusters to block legislation.
But McConnell told CBS' "Face the Nation" on Sunday that "whoever is appointed to replace him would caucus with Senate Republicans," indicating his belief that a Republican would be named.
"I think it would have no impact on the balance of power in the Senate," he said.
Gregg would face re-election in 2010 if he remains in the Senate. Two New Hampshire Republican Party sources have suggested to CNN that Gov. John Lynch is careful to appeal to Republicans and might be open to appointing a Republican to, as one of the sources said, "follow the will of the people."
President Barack Obama first nominated New Mexico Gov. Bill Richardson to be commerce secretary. But Richardson withdrew in early January, citing the distraction of a federal investigation into his ties to a company that has done business with his state.
E-mail to a friend

All About Judd Gregg • New Hampshire • U.S. Department of Commerce