By Mark Preston
CNN Political Editor





WASHINGTON (CNN) -- Republicans took the first step toward rebuilding on Friday after suffering demoralizing losses in November that left them with little power and acknowledging that much needs to be done to restore the GOP to its former glory.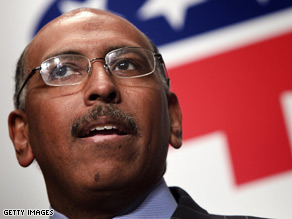 Michael Steele said Friday Republicans must take "a brand new message to the American people."
Michael Steele was elected chairman of the Republican National Committee, a historic selection because he becomes the first African-American to lead the national committee at a time when one of the biggest challenges for the GOP is recruiting minorities.
But that is not Steele's only challenge. Republicans must learn to operate without the trappings and bully pulpit of the White House, as well as develop a new fundraising strategy that for the past eight years relied, in part, on former President Bush's ability to raise large amounts of money from wealthy donors.
Republicans must also make up ground on the technological front. Democrats have blazed a path into the 21st century -- successfully opening a new fundraising stream and gaining a foothold with the next generation of voters.
Steele, a former Maryland lieutenant governor, will be charged with addressing these issues as well as re-establishing the GOP brand as Republicans do some deep soul-searching. He acknowledged that the party has an image problem, but vowed to help change this perception by taking the Republican message into communities across America.
"For so long, we've allowed the Democrats to define us," Steele said Friday in some of his first remarks after being elected.
"We've allowed the media to define us, and so it's important for us to begin to establish with clarity who we are, what we believe as we begin to go out and take, I think, a brand new message to the American people."

Watch Steele's remarks to the RNC »
Steele will serve as the main arbiter in the debate over what ideological direction the GOP should take. There are some conservatives who argue that the party needs to reestablish a stronger focus on a social agenda, while centrists advocate against being so rigid on these issues.
Some social conservatives were concerned Steele would not champion social issues as the RNC chair, but those fears might have been eased by Ken Blackwell's decision to endorse the former Maryland lieutenant governor.
Blackwell was considered the favorite of many social conservatives in his own bid for the RNC chair. But he told me that he decided to withdraw after several rounds of balloting and back Steele because "Michael looked at me in the eye" and committed to stay true to the party's political platform of "primacy of life, limited government and the rule of law."
Publicly, Steele pledged to empower local and state Republican leaders to help chart the national party's new direction -- a promise that will be welcomed by grassroots leaders accustomed to implementing political strategies dictated by Washington.
"Give me your plan," he said. "What are you targets? What are your expectations?"
Steele later added: "This is a bottom-up effort, not a top-down effort." Read how iReporters would like to see the Republican Party move forward
Still, Republicans no longer control the White House, are in the minority in the House and Senate and Democrats hold more gubernatorial seats. But former Sen. Spence Abraham, R-Michigan, said the GOP must regroup and devise a new set of ideas to contrast with the Democratic agenda even as it plays defense.
"I think the overriding need for the party is to have a very coherent message about what Republicans will do when they are back in power," Abraham said.
"You do not win elections in this country merely by opposing the other side. Obviously, that is part of what you do as the opposition party, but you also have to present some strong views. And I think that is our No. 1 challenge right now. It is not so much to try to fine tune the pitch of conservatism as it is to develop a set of ideas we feel we can run on in a new decade."
Of the five candidates who stood for election Friday to be the next RNC chair, Steele was the best equipped to assume the role as a national spokesman. He is accustomed to appearing on national television, has a very sharp wit and most important, has a strong grasp of the issues.
But he will not be the sole spokesman of the party -- it is likely a handful of Republican governors such as Charlie Crist of Florida, Bobby Jindal of Louisiana, Sarah Palin of Alaska, Mark Sanford of South Carolina, and Arnold Schwarzenegger of California will assume more prominent public roles.

Steele and the governors should help alleviate pressure on Congressional Republican leaders to serve as the GOP's primary national spokesmen at a time when they need to focus their efforts on regaining control of the House and Senate.
For now, though, this is Steele's time to stand alone and bask in the spotlight. He beat four other candidates, endured six ballots and overcame the concerns of social conservatives to earn the right to lead the Republican Party.
E-mail to a friend

All About Republican National Committee • Mike Duncan • Michael S. Steele