By Robert Yoon
CNN Political Research Director





WASHINGTON (CNN) -- Secretary of State Hillary Clinton rang in the new year still saddled with $5.9 million in debts left over from her unsuccessful 2008 presidential campaign, according to records filed Saturday with the Federal Election Commission.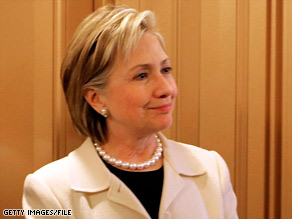 Hillary Clinton has forgiven her personal loan but owes vendors $5.9 million.
The nation's top diplomat has been steadily chipping away at unpaid campaign bills since suspending her White House bid in June, when her debt peaked at $25.2 million.
That amount included both $12 million owed to vendors and the $13.2 million she loaned her campaign from personal funds.
Clinton's campaign was unable to repay that personal loan by the time the Democratic National Convention convened in Denver, Colorado, in August, the deadline mandated by the 2002 McCain-Feingold campaign finance law.
The former New York senator has since forgiven the entire loan amount, leaving only the $5.9 million owed to vendors on the campaign's books.
Clinton and her supporters had been in a race against time to pay off as much of the debt as possible by the time of her confirmation and swearing-in as the nation's 67th secretary of state on January 21.
As of that date, Clinton became subject to a federal law known as the Hatch Act, which prohibits federal employees from personally soliciting or accepting political contributions.
Clinton's mother, Dorothy Rodham, sent out the last of a series of e-mail fundraising pitches January 16, specifically asking for donations to help retire the debt before her daughter took her new post.
"Now I have to ask you -- for the very last time -- to give her your help. This is our last chance to help Hillary pay down the debt from her history-making campaign," Rodham wrote in a note distributed to Clinton's campaign distribution list. "I know how much it would mean to her to have your help this one last time. Please take this opportunity to show Hillary your support by making a contribution today."
Don't Miss
The Hatch Act does allow others to continue raising funds on Clinton's behalf, though without her direct involvement.
The FEC report did not indicate how much debt the campaign carried as of January 21. That report will not be available for several months.
The $5.9 million in remaining campaign debt is owed to five creditors, down from 16 creditors a month earlier.
The bulk of this debt, $5.4 million, is owed to Penn, Schoen & Berland, a political consulting and polling firm that advised Clinton during her presidential bid. The firm's president, Mark Penn, was Clinton's senior campaign strategist until he stepped down in April amid revelations that he lobbied on behalf of the Colombian government for a U.S.-Colombia trade deal that Clinton opposed.
Penn did remain involved with the campaign, though
The other creditors are the Washington-based firms of MSHC Partners, which is owed $397,114 for printing costs, and D.H. Lloyd & Associates, which is owed $147,987 for insurance costs; Financial Innovations Inc. of Cranston, Rhode Island, which is owed $31,452 for printing costs; and the Mayfield Strategy Group of Palo Alto, California, which is owed $4,552 for consulting and Web site expenses.
Clinton raised $1.3 million in contributions in December and had an end-of-year cash-on-hand amount of $1.6 million, which can be applied toward the debt.
E-mail to a friend

All About Hillary Clinton • Campaign Finance