Editor note: To read Republican Jason Chaffetz's article, click here To read Democrat Jared Polis' entry, click here.
(CNN) -- What's it really like to be a new member of the world's most powerful legislature? Two new U.S. representatives are teaming up with CNN.com to report their "Freshman Year" experience through videos and commentaries.
Jason Chaffetz and Jared Polis are taking video cameras with them as they negotiate their way in the 111th Congress, both inside and outside Washington.
They both won convincing victories in November in neighboring states, yet they are world's apart. Utah's Chaffetz is a conservative Republican married father of three who is sleeping on a cot in his congressional office to save money. Democrat Polis from Colorado is a former Internet entrepreneur who is one of the wealthiest members of Congress and the first openly gay male to be elected to the House of Representatives as a freshman.
You can follow their stories regularly on CNN.com.

Watch the action in Congress from the point of view of the Congressmen »
Here are their biographies: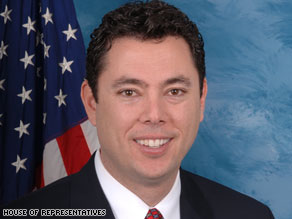 Rep. Jason Chaffetz is a freshman Republican congressman representing the 3rd District of Utah. He was elected in November, winning two-thirds of the vote against a Democratic challenger.
Chaffetz, 41, got the Republican nomination in an upset victory over Rep. Chris Cannon. He ousted the six-term incumbent in a low-budget campaign in which he said Cannon was not conservative enough for the district, particularly in fighting illegal immigration.
Don't Miss
Chaffetz grew up in California, Arizona and Colorado and was recruited to Brigham Young University to be a placekicker by football coach LaVell Edwards. He set two school records as the starting placekicker and earned a degree in communications.
After college, Chaffetz joined the local business community and worked as a spokesman for Nu Skin International. Chaffetz stayed at Nu Skin for nearly 11 years, as managing director of marketing and product development and general manager for Australia and New Zealand.

Watch the reports from Week One »
Chaffetz managed Jon Huntsman Jr.'s campaign for governor of Utah and after Huntsman took office in 2005, he became his chief of staff.
He has been married to Julie Johnson for 18 years and they have three children.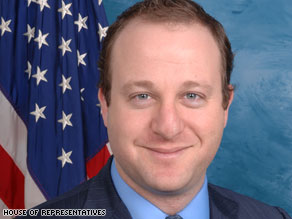 Rep. Jared Polis is a freshman Democratic congressman representing the 2nd District of Colorado. He was elected in November to the seat held by Mark Udall, who ran and won for U.S. Senate. Polis defeated his Republican opponent, gaining 62 percent of the vote.
His campaign stressed environmental issues, education reform, withdrawing troops from Iraq and repealing Bush administration tax cuts for the highest-income earners. He is the first openly gay male to be elected to Congress as a freshman.
Polis, 33, was born in Boulder, Colorado, and grew up in Colorado and Southern California. He was a student at Princeton University when he co-founded a company providing Internet access and Web hosting. Growing up in his family's Boulder-based greeting card and publishing business, Blue Mountain Arts, he succeeded his grandmother as sales manager in 1996 and helped start bluemountainarts.com, an online greeting card Web site.
In 1998, he launched ProFlowers.com, a Web company to sell flowers direct from growers to consumers; its parent company was sold to Liberty Media Corporation in 2006.

Jared won statewide election in 2000 to the Colorado Board of Education and served for six years. He started a foundation and two charter schools to support improvements in education and received numerous awards for his philanthropic work.
Immediately before running for Congress, Polis served as superintendent of New America School, a charter school he founded to help 16-21-year-old new immigrants learn English and gain a high school diploma.
E-mail to a friend