WASHINGTON (CNN) -- Four prominent Democratic senators spoke out Saturday in support of former Sen. Tom Daschle, whose tax records have come under scrutiny since President Obama nominated him for a Cabinet position.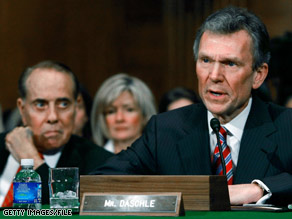 Former Sen. Tom Daschle answers questions during a confirmation hearing January 8.
Obama nominated the 61-year-old South Dakotan to be secretary of health and human services, and the Senate Finance committee -- which will vote on the nomination before it goes to the full Senate -- is to meet Monday to discuss the nomination.
A committee memo obtained Friday by CNN indicates that committee members want to discuss the use of a car and driver that Daschle didn't disclose on his income taxes, and nonpayment of taxes on more than $80,000 he earned in consulting fees after leaving the Senate.
Daschle also apparently once filed a tax form listing charitable donations to organizations that did not qualify for a deduction, according to the memo.
On Saturday, the Democratic senators defended Daschle, who served in the Senate from 1987-2005 and was Democratic leader from 1995 until he was defeated in a re-election bid in 2004.
Sen. John Kerry, D-Massachusetts, the senior member of the finance committee, released a statement Saturday saying, "Months ago, Tom personally and proactively addressed the taxes issue and took all necessary steps to correct his innocent error."
Kerry's statement did not elaborate on Daschle's actions, but the memo obtained by CNN said Daschle has paid about $150,000 in back taxes and interest to address the problems.
Another committee member, Sen. Charles Schumer, D-New York, said Saturday that Daschle had "identified and self-disclosed his oversight."
Democratic Sens. Patrick Leahy of Vermont and Ted Kennedy of Massachusetts also released statements supporting Daschle.
Sen. Charles Grassley of Iowa, the ranking Republican member of the finance committee, said Friday that Daschle's confirmation process "established certain tax violations, for which the nominee has amended or is amending [tax] returns."
A source close to Daschle said he had not reported the use of the car and driver because he considered it to be a personal favor from a partner in a company Daschle was doing consulting work for after leaving the Senate.
Daschle's nonpayment of taxes on the consulting work happened when he received an incorrect tax form from the company, the source said, and the company didn't recognize its error until Daschle's accountant contacted company officials in December.
He has been a confidant and adviser to Obama, and it was not a surprise when Obama tapped him for a role in his administration.

Watch how Daschle issue has been a distraction for Obama »
"The president has confidence that Sen. Daschle is the right person to lead the fight for health care reform," White House spokesman Robert Gibbs said Friday. "In preparation for his nomination, Sen. Daschle and his accountant identified some tax issues and fixed them. They filed an amended return with the IRS and made payments with interest."

Jim Manley, spokesman for Senate Majority Leader Harry Reid, said Daschle would be confirmed.
"He has a long and distinguished career and record in public service and is the best person to help reform health care in this country," Manley said. "Sen. Reid looks forward to a swift hearing and is confident Daschle will be confirmed."
E-mail to a friend

CNN's Dana Bash contributed to this report.
All About Thomas Daschle • Barack Obama • U.S Department of Health and Human Services • U.S. Senate Committee on Finance