By Mark Preston
CNN Political Editor





WASHINGTON (CNN) -- The only bright spot in the nation's capital for Republicans these days seems to be a flame that burns 24 hours a day in the courtyard at the campaign headquarters for Republican senators.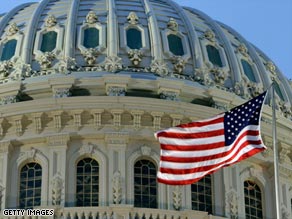 Democrats control the Senate by a 58- to 41-seat margin over Republicans.
The Eternal Flame of Freedom is near the National Republican Victory Monument, which commemorates the 1994 "Republican Revolution," when the GOP wrested control of Congress out of Democratic hands.
Even in the cold, snowy days of January, the flame blazes as a beacon of hope for some and as a memory of the days when Republicans were in power and called the shots in Washington.
Now, the GOP is taking orders from Democrats and doing a lot of soul-searching as it tries to right itself and return the party to its glory days.
The task is a daunting one, with no quick fixes.
Heading into Inauguration Day, President Obama's approval rating was at 84 percent, according to a CNN/Opinion Research Corp. poll. And the same poll showed that 56 percent of Americans thought the country would be better off if Democrats controlled Congress, but only 31 percent felt the same way about the GOP.
Democrats control the Senate by a 58- to 41-seat margin, which could increase to 59 to 41 if Norm Coleman, R-Minnesota, fails to win the court fight to keep his seat.
Across the Capitol, the news is grimmer. Democrats have a 255-178 edge over Republicans in the House, with two vacancies.
Don't Miss
"We are at a low-water mark," Texas Sen. John Cornyn, chairman of the National Republican Senatorial Committee, said at a recent political briefing on 2010 Senate races. "You might say there is nowhere to go but up. I don't think that is necessarily true, either."
Still, the 2010 midterm elections are around the corner, and there is a lot of time for the GOP to regain its voice and win back some valuable ground lost in the past election.
And as pragmatic as Cornyn is about the current state of affairs, he points out that Obama will not be on the ballot in 2010, and former President Bush is unlikely to play a starring role in congressional campaign ads.
Bush's approval rating as he left office was 31 percent, and 68 percent disapproved of how he handled his job as president, according to the CNN/Opinion Research Corp. poll.
Although there is a sense among many Republicans that for now it is very difficult to stop Obama and his legislative initiatives, the fog of defeat also seems to be lifting. One needs to look no further than the GOP pushback this week on the president's economic stimulus package.
"We can't continue as a government to spend money we don't have and pass the bills to our kids and grandkids," House Minority Leader John Boehner, R-Ohio, told me last week. "And by and large, most Republicans here in Washington believe that. What we have to do is show the American people through what I call better ideas about how government can do what we need it to do, but do it better and more efficiently."
This renewed sense of life comes at a critical time for Republicans as they prepare this week to choose the next chairman of the Republican National Committee.
The new chairman will be charged with rebuilding a party from the ground up and will need to look beyond the Beltway for help. As Boehner notes, the GOP needs to show the American people that Republicans can govern more effectively than Democrats.
Nick Ayers, executive director of the Republican Governors Association, told me recently that he thinks there is an easy answer: Republican governors.
"The great thing about our governors is that they don't have time to sit in Washington and pontificate," Ayers said. "They know best what the concerns of their citizens are and are in the best position to solve those problems. Our party doesn't need to be about rebuilding our party. Our party needs to be about solving problems. Our governors are the only ones to do it."
Ayers might have a point. In Washington, Republicans have been relegated to playing the role of the loyal opposition party, but Republican governors are in a better position to produce results on a wide variety of domestic issues.
And Ayers notes that over the next year, people should expect to see "our governors taking a very large role in communicating what the party is doing and needs to be doing."
So don't be surprised if you start seeing Republican governors such as Florida's Charlie Crist, Louisiana's Bobby Jindal, Alaska's Sarah Palin, South Carolina's Mark Sanford and California's Arnold Schwarzenegger, among others, speaking out about the future of the Republican Party.
The next national Republican leader might not be picked in a Washington ballroom this week; he or she might very well be a governor who is in a position to showcase his or her talents at solving problems. And it is from this Republican bench which some of the front-runners for the GOP presidential nomination in 2012 will emerge.
E-mail to a friend

All About Republican Party • U.S. Congress • Democratic Party