By Jonathan Mann





(CNN) -- Call it Barack Obama's Trillion-Dollar Gamble. The new president is betting that popularity, patience and a big pile of money can solve his biggest problem.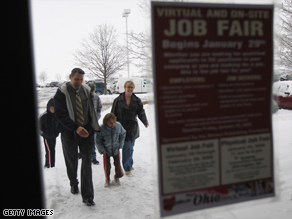 Unemployment in the U.S. is rising and Obama has to fix the problem.
He's made a fast and impressive start on some other important work.
He announced this week that he's closing the prison at Guantanamo Bay within the year, recommitting the U.S. to the international effort against global warming and, in his first formal interview since taking office, he reached out to the Muslim world.
You could make a list of all the other promising ideas and initiatives that are still ahead.
But the first item on the list dwarfs everything else. The success of his presidency may depend on it.
Obama has to find a way to pull the country out of the deepest economic decline since the Great Depression and restore world confidence in U.S. markets.
Pollsters say that nothing else matters as much to the American people.
So far, the plan is stimulus -- with tax cuts and spending that will range from banks to bridges.
The Congress has agreed to give him $350 billion left-over from a Bush administration bailout fund.
Barring some last minute surprise, he'll get at least another $825 billion for a stimulus plan of his own. That's more than a trillion dollars.
But experts are asking two crucial questions: Will it work? And when?
The U.S. economy is so big that a trillion dollars may not be enough to turn it around.
There is already talk in Washington about pressure for more money.
And even if the Obama administration can spend enough to have a real impact, it may take a year or more for that impact to be felt.
Obama does have some time. Polls suggest a majority of Americans have faith in his economic plans and expect they will take at least two years to lift the country out of recession.
But Obama has to bet that the administration will spend enough money, in enough of the right ways, to succeed fast enough to keep the support of the American people.
The truth is, it's not entirely a gamble, it's an imperative. Obama may have a lot of goals for his time in office, but when it comes to fixing the economy, he has no choice.
E-mail to a friend

All About Barack Obama