WASHINGTON (CNN) -- The Senate Judiciary Committee voted 17-2 on Wednesday to send the nomination of Attorney General-designate Eric Holder to the full Senate.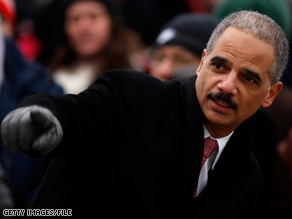 Attorney General-designate Eric Holder served as President Clinton's deputy attorney general.
The committee's Democratic members unanimously supported Holder; GOP Sens. John Cornyn of Texas and Tom Coburn of Oklahoma voted no.
Holder's Senate floor vote and swearing in could be completed as soon as Thursday.
The committee's endorsement of Holder was virtually assured Tuesday when the committee's top Republican, Sen. Arlen Specter of Pennsylvania, announced his support of Holder's nomination.
Specter had angered Holder during the committee's confirmation hearing 11 days ago when he questioned Holder's "fitness" for the office.
In particular, the Pennsylvania senator questioned whether Holder would be politically independent from the White House.
Specter's remarks stemmed from Holder's refusal as President Clinton's deputy attorney general to seek an independent counsel to probe allegedly questionable fundraising by then-Vice President Al Gore.
A clearly annoyed Holder warned Specter he was "getting close to the line in questioning my integrity."
It was the only heated exchange during a long day of testimony.
Specter, who later met with Holder privately, had also been particularly aggressive in challenging Holder's account of his role in Clinton's pardon of fugitive financier Marc Rich.
Specter raised additional concerns about the possible prosecution of Bush-era officials who were operating under what they presumed to be a lawful order when they engaged in harsh interrogation techniques.
Outgoing Deputy Attorney General Mark Filip is serving as acting attorney general until Holder arrives at the Justice Department.
If confirmed by the full Senate, Holder, 58, will become the nation's first African-American attorney general.
E-mail to a friend

All About Eric Holder • Arlen Specter • U.S. Senate