(CNN) -- Embattled Illinois Gov. Rod Blagojevich wants to speak at his impeachment hearing before the state Senate on Thursday if lawmakers allow him to do so, Senate President John Cullerton said Wednesday.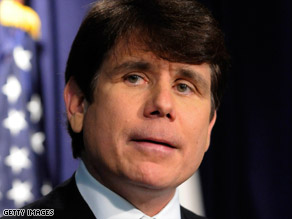 A lawmaker says Gov. Rod Blagojevich wants to give a closing argument in his case before the Illinois Senate.
Blagojevich faces federal corruption charges, accused of, among other things, trying to trade or sell the U.S. Senate seat that became vacant after Barack Obama was elected president.
A spokesman for Blagojevich told CNN on Wednesday afternoon that the governor was in a meeting and there would be no word on his intentions until that meeting was over.
It was unclear Wednesday whether state senators, who will decide whether to remove Blagojevich from office, would allow him to speak at the hearing. He has not attended previous sessions this week and called the House vote to impeach him politically motivated.
Cullerton said Blagojevich would be giving a closing argument in his case, not submitting himself for questioning or cross-examination. He urged his colleagues to allow the appearance.

Watch Blagojevich's interview with CNN's Larry King »
"I've been informed that the governor would like to come here tomorrow and ask leave of us to file an appearance," Cullerton said during Wednesday's impeachment hearings. "We would have to give him permission to do that.
"I would urge us all to give him permission -- to give him that leave, so that he can then argue as his own attorney."
He said the Senate could not immediately vote because Blagojevich had not yet filed a formal request.
Wednesday was the third day of hearings in the Senate, after the House voted overwhelmingly in favor of impeachment. The lawmakers heard testimony that under Blagojevich, state agency employees were unable to speak with a committee on administrative rules -- which had been allowed in prior administrations.

On Tuesday, the senators heard recorded snippets of four conversations, all pertaining to horse-racing legislation. Prosecutors said the brief recordings revealed the governor's efforts to raise campaign contributions in exchange for signing the bill.

Watch more on the Blagojevich tapes »
Meanwhile, Blagojevich on Wednesday continued an ambitious media blitz, appearing in interviews with CBS, CNN, Fox and The Associated Press. A day earlier, he had appeared on CNN's "Larry King Live," ABC's "Good Morning America" and "The View."
E-mail to a friend

All About Rod Blagojevich • Illinois