WASHINGTON (CNN) -- President Obama signed a memorandum Monday requiring the Environmental Protection Agency to reconsider an application by California to set more stringent auto emissions and fuel efficiency standards than required by federal law.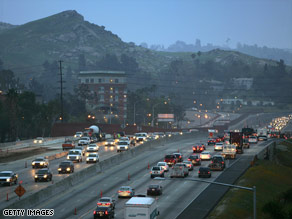 California and 13 other states would be permitted to set their emission standards under President Obama's plan.
If the EPA grants a waiver allowing California to set its own emissions standards, the nation's most populous state will be allowed to require automakers to produce trucks and cars that get better mileage than what is required under the current national standard.
Thirteen other states could take similar action.
"It will be the policy of my administration to reverse our dependence on foreign oil," Obama said.

Watch Obama discuss energy plans »
Increasing fuel efficiency, he said, is a key step in preventing the United States "from being held hostage" to hostile regimes and the threat of global warming. iReport.com: What should Obama do next?
"I am fearful that today's action will begin the process of setting the American auto industry back even further," replied Sen. George Voinovich, R-Ohio, in a written statement. "The federal government should not be piling on an industry already hurting in a time like this."
Former President George W. Bush's administration rejected California's application, agreeing with automakers that the creation of another set of rules regarding pollution standards for some states would be confusing and unenforceable.

Besides the EPA waivers, Obama also called for automakers to increase their fuel efficiency standards nationwide.
The president also directed the federal government to make its buildings more energy efficient and to find new ways for federal agencies to save energy.
E-mail to a friend

CNN's Suzanne Malveaux contributed to this report.
All About U.S. Environmental Protection Agency • Energy Efficiency and Conservation