(CNN) -- The Illinois state Senate on Monday began its impeachment trial against Gov. Rod Blagojevich without the governor present.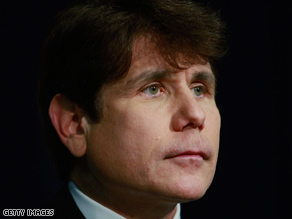 Illinois Gov. Rod Blagojevich denies any wrongdoing.
Blagojevich said he expects lawmakers to vote to convict him.
He is facing federal corruption allegations, including trying to trade or sell the Senate seat that became vacant after Barack Obama was elected president.
The second-term Democratic governor has denied wrongdoing.
Instead of attending the trial, Blagojevich hit the media circuit Monday. He appeared on ABC's "Good Morning America" and "The View," and was scheduled to give his first live prime-time interview Monday night on CNN's "Larry King Live."
Speaking on "Good Morning America," Blagojevich restated his complaints about what he called the "unconstitutional" impeachment trial, which he said "denies me the right to call witnesses to defend myself and prove my innocence."

Watch Blagojevich say he's done "nothing wrong" »
Blagojevich on 'King'
Gov. Rod Blagojevich joins Larry King for the hour and takes your calls.
Tonight, 9 ET on CNN

He said he is certain the Illinois Senate will vote to remove him from office and said he expects they will demand he step down "relatively soon."
Earlier this month, the Illinois House of Representatives voted overwhelmingly to impeach him. Blagojevich has said the vote was politically motivated.
Under the Illinois Constitution, the House can vote to impeach an executive or judicial officer, but it is the Senate that conducts the trial. A two-thirds majority vote in the Senate is required to convict an officer of an impeachable offense.
According to a federal complaint issued in December, Blagojevich and his chief of staff, John Harris -- who also was arrested on federal corruption charges -- were "conspiring to obtain personal financial benefits" for the governor by leveraging his sole authority to appoint a U.S. senator to replace Obama.
"I've got this thing and it's [expletive] golden," Blagojevich allegedly said in one recorded phone conversation, referring to his authority to appoint, according to the complaint. "I'm just not giving it up for [expletive] nothing."
When asked about those alleged quotes, Blagojevich told ABC that federal prosecutors "took snippets of conversations completely out of context."
Don't Miss
"When the whole story comes out, you'll see that the effort was to work to have a senator who can best represent Illinois," he said.
Blagojevich has said his rights are being violated because he cannot challenge assertions in the House impeachment report.

Watch Blagojevich demand a fair trial »
Blagojevich also is asking for a change in a Senate trial rule that he said is preventing him from calling witnesses such as Valerie Jarrett, a confidant of Obama's; Rep. Jesse Jackson Jr.; and White House Chief of Staff Rahm Emanuel.
Emanuel, claimed Blagojevich, agrees that he did not break any laws.
State Sen. Matt Murphy, part of the nine-member committee that put the Senate trial rules together, called Blagojevich's complaints "the theater of the absurd." iReport.com: Do you trust your political leaders?
"What you've seen here ... is a cynical effort on the part of this governor that's perfectly consistent with his actions over the last six years, to try and further undermine the faith in this process that the people already have," Murphy said.
He said the House prosecution team responsible for presenting the impeachment case to the Senate is operating under the same restrictions as Blagojevich with regard to calling witnesses.
Murphy said on "Good Morning America" that U.S. Attorney Patrick Fitzgerald has asked both sides to "defer to the criminal prosecution" of Blagojevich and "limit witnesses."
He noted that the governor has every right to submit "positive statements that the governor says exonerate him" -- such as those from Jarrett, Jackson and Emanuel -- as evidence in the Senate trial.

"We have lowered the standard for the admission of evidence for the governor to bend over backward to make this fair," Murphy said. "The suggestion that this is somehow unfair to the governor is the most self-serving, ludicrous statement I have ever heard in my life. It couldn't be fairer for this guy."
Blagojevich missed deadlines this month for answering the impeachment charge and for filing a motion to dismiss, a spokesman for Illinois Senate President John Cullerton has said.
E-mail to a friend

All About Rod Blagojevich • Illinois