Editor's note: Campbell Brown anchors CNN's "Campbell Brown: No Bias, No Bull" at 8 p.m. ET Mondays through Fridays. She delivered this commentary during the "Cutting through the Bull" segment of Monday night's broadcast.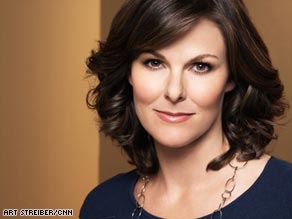 CNN's Campbell Brown says Citigroup took $45 billion in bailout funds and still laid off workers, bought jet.
(CNN) -- Why is it the more we look around the edges of the Wall Street bailout, the more we find reason to ask just what in the world is going on?
Over the last few days we have seen a couple of things that have just baffled us.
First, Citigroup and it's decision to buy a big new corporate jet. The New York Post Monday hammered the company for taking $45 billion in taxpayer bailout money, for laying off 75,000 workers, and still taking possession of a new $50 million luxury jet later this year.
Citi says it is selling its old planes, and with that cash will more than make up the cost of the new model.
But in case you missed the one about the CEO's for the big automakers going to Capitol Hill and getting reamed for their private jets, this isn't what you want to be talking about in this environment, guys.
You are laying people off. This is not what Americans want to hear.
Meanwhile, we ask again tonight, where is the oversight and accountability?
One of the leaders of the president's economic team appeared on NBC's "Meet the Press" over the weekend.
He was pressed on why the government isn't demanding that banks spend the bailout funds the way the government wants them to.
He didn't have an answer. Who is in charge of this process? Who is watching the banks and demanding accountability?
'No Bias, No Bull'
Get the latest on the day's main events.
8 ET Monday through Friday

We recognize that the new treasury secretary just got confirmed Monday evening and that the Obama team has been on the job for only a week.

But please, please, just show us a sign that somebody has a handle on this and can actually tell us what in the world is going on.
The opinions expressed in this commentary are solely those of Campbell Brown.
E-mail to a friend

All About Wall Street • U.S. National Economy • U.S. Department of the Treasury