By Gloria Borger
CNN Senior Political Analyst






WASHINGTON (CNN) -- If there was one message that resonated loud and clear from the Obama campaign, it was this: Let's get past all of the partisanship and work together to get something done.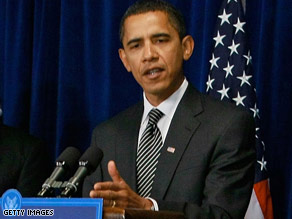 President Barack Obama has pledged to work with Republicans on his economic stimulus package.
Turns out, President Barack Obama actually meant it. He's been meeting with congressional Republicans (and will trek to the Hill again Tuesday).
He's been listening to their ideas, incorporating some tax-cut ideas. And, yes, he's also been turning some down. After all, as he told Republicans last week, he was the one who won the election.
So what we're watching now as the stimulus package takes shape is the legislative equivalent of the first date: Republicans meeting with the new president, sizing him up. Obama deciding whether the GOP is serious about working with him.

Watch Obama discuss his stimulus plan »
"He [Obama] came to a conclusion early on in his political career that partisan polarization is a large part of the problem," says a senior Obama adviser. "Both in reality and in the minds of the American people."
Ah, but it's never that simple.
First, there's the House. It's the most polarized place in Washington, and the GOP leader, Rep. John Boehner, is making that very clear.
Too much spending, and too few tax cuts, he says. And, as icing on the cake, he cherry-picks some proposals bound to set off alarms with GOP constituencies -- all standard operating procedure from an opposition party.

Watch a House Republican discuss his opposition to the plan »
But here's the problem: The GOP has to be careful about not being seen as the folks who simply want to obstruct the Obama agenda. Not just because the new president is popular, and not just because 58 percent of the public wants an economic stimulus plan. A majority of independent voters want one, too.
It's easy to say "no" for Republicans. That's because while they can vote against the plan, they understand they're not likely to kill the stimulus package. So they figure they can get the best of all political worlds: making their rhetorical points against something, knowing full well it will pass.
But in voting against something that might actually work, Republicans might want to remember this: They need the economy to improve just as much as the Democrats do. They should want to be a part of the fix.
In a way, by courting bipartisanship, Obama is actually giving the GOP leverage.
That's where the Senate comes in. The House bill isn't likely to be anything the GOP will support, but in the Senate there's more chance for GOP input. Why not try to work with the president, just to see how it feels? In the end, Obama could end up in fights with his own House Democrats to bring along some Republicans.
Why not test him to see if he has the mettle to do that?
And, by the way, if you're a Republican in a state in which the economy is truly hurting, it's risky to oppose a stimulus package.
The president's approval rating is near 80 percent. People want to change the way Washington does business. If Republicans become the nay-sayers this early, they give Obama a big stick to beat them with -- and tar them as business-as-usual, partisan politicos.

Of course, substance matters. And voting for the largest spending package in American history will make fiscal conservatives, both Democratic and Republican, nervous.
But what might make them more nervous is the prospect that the economy doesn't improve. Then it's their jobs that will be on the line.
E-mail to a friend

All About Barack Obama • Republican Party