NEW YORK (CNN) -- New York Gov. David Paterson said Sunday that Caroline Kennedy received "no signal from me that she had to withdraw" from her campaign to fill Hillary Clinton's vacant U.S. Senate.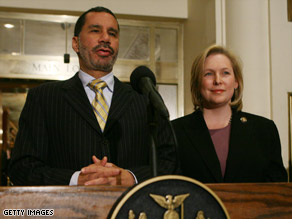 New York Gov. David Paterson, left, attends a press conference Sunday with Senator-designate Kirsten Gillibrand.
Appearing at a news conference with the person he picked to fill that seat -- Democratic Rep. Kirsten Gillibrand of Hudson in upstate New York -- Paterson briefly answered reporters' questions about the Kennedy withdrawal, saying the decision was entirely hers.
"Caroline Kennedy called me on Wednesday to inform me that for personal reasons she had to withdraw," Paterson said.
Paterson was not asked what might have happened if Kennedy had stayed in contention but said, "There was nothing that would have prohibited her from serving. She took her name out of consideration."
When he announced Gillibrand's selection Friday, Paterson declared, "I believe that I have found the best candidate to be the next United States senator from New York."
In her turn at the microphone Sunday, Gillibrand made no reference to Kennedy, trying instead to fend off criticism of her selection as a little-known congresswoman from a mostly rural district in upstate New York. Much of that criticism has come from her consistent support of gun-owner rights.
"I grew up in a family of hunters," Gillibrand said. "I very much believe in protecting hunters' rights -- it is a core value for our region and our state."
But she said as a senator she would listen to various groups.
"There's a lot of concerns in many of our city communities about gun violence, about keeping our children safe, about making sure guns stay out of the hands of criminals," she said. "Those are all concerns I share, and I will fight very hard to protect our communities."
Paterson and Gillibrand spoke to reporters after lunch with Sen. Charles Schumer, D-New York, and Clinton, who was confirmed last week as secretary of state.

Watch Paterson announce Gillibrand's appointment »
Don't Miss
Neither Clinton nor Schumer attended the press conference.
Paterson and Gillibrand took the opportunity to praise Clinton, with Paterson saying Gillibrand had to "fill the shoes of a great leader who has gone on to be secretary of state."
Gillibrand added, "We could not have a better person as secretary of state right now."
Paterson's pick of Gillibrand concluded an apparently chaotic selection process that drew criticism from across the political spectrum.

The selection also put a definitive end to weeks of speculation the seat might go to Kennedy, who cited personal reasons for withdrawing her name from contention.
Some political observers say Paterson may have chosen Gillibrand in part because of her electability. Democrats will have to defend the Senate seat in a 2010 special election and Gillibrand -- a 42-year-old Albany-born Catholic congresswoman and mother of two -- has a proven ability to win over conservative voters in upstate New York, a region traditionally hostile to Democratic candidates.
E-mail to a friend

All About David Paterson • Kirsten Gillibrand • Caroline Kennedy