From Ed Hornick
CNN






(CNN) -- The political circus surrounding the selection of New York's next senator is over -- at least for the next two years.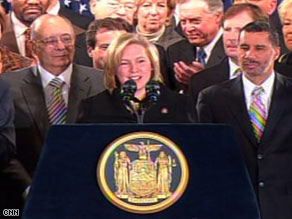 New York Gov. David Paterson announces the choice of Rep. Kirsten Gillibrand fill Clinton's seat.
On Friday, New York Gov. David Paterson, a Democrat, appointed Rep. Kirsten Gillibrand to serve the remaining Senate term of Secretary of State Hillary Clinton.
Paterson had the task of choosing among at least 10 people for the job. The list included New York Attorney General Andrew Cuomo and Caroline Kennedy.
New York Reps. Carolyn Maloney and Steve Israel had also been mentioned as replacements for Clinton.
Kennedy was considered the front-runner for the Senate seat her uncle Robert Kennedy once held, but she withdrew her bid before Gillibrand, a relatively unknown upstate representative, got the job.
Paterson's decision was hailed by several top state Democrats.

Watch Gillibrand discuss her new job »
Cuomo said he's had the "pleasure of knowing her for many years." Gillibrand, 42, worked for Cuomo during his time as secretary of the Department of Housing and Urban Development under President Clinton.
June O'Neill, head of the New York State Democratic Committee, said Gillibrand's "upbringing in the Capitol region and time spent working in New York City, combined with her service as special council to HUD and tenure in the House of Representatives, give Congresswoman Gillibrand a unique understanding of the issues facing New Yorkers."
But one New York Democrat said she's furious over the selection.
Democratic Rep. Carolyn McCarthy, a strong advocate of gun control, told CNN's Mary Snow on Friday that Paterson is "making a very bad choice as far as picking someone who in my opinion doesn't represent New York state."
McCarthy, whose husband was shot to death, said she boycotted the press conference in Albany, New York, because Paterson was "picking the person who I obviously do not agree with."
Don't Miss
McCarthy said she's fought for tougher gun safety measures and cited Gillibrand's strong support for Second Amendment rights. The Second Amendment deals with the right to bear arms.
Gillibrand, however, touts her support of the National Instant Criminal Background Check System Improvement Act, which provides incentives to states to update background checks, according to Gillibrand's congressional Web site.
McCarthy said she's talked to other politicians in the state who, like her, say Gillibrand is the wrong choice for the job.
Paterson did not address the fallout over Kennedy's withdrawal or the weeks-long guessing game over his choice. But one New York observer said Friday that it has left a scar on the state.
"It was a circus and he wasn't a good ringmaster," said Doug Muzzio, who is a specialist in city politics at Baruch College. "It was a six-week soap opera and one minute he made up his mind, and the next minute he didn't."
Various opinions were offered as to why Gillibrand was selected over Kennedy, who lobbied hard for the seat and was mentioned in political circles as Paterson's likely choice.
As late as Wednesday afternoon, Kennedy was said to be asking aides for briefing papers. By early evening, sources said she didn't want the Senate seat anymore -- leaving some close aides stunned.
An aide to Paterson said then, however, the governor hadn't spoken with her.
By late Wednesday, there were reports it was all a misunderstanding and Kennedy still wanted the job. But shortly after midnight, Kennedy issued a written statement pulling out.
Paterson's office addressed the matter in a statement released late Thursday afternoon:
"Last night Caroline Kennedy informed the governor that she was withdrawing her name from consideration for an appointment to the United States Senate for personal reasons. ... This decision was hers alone.
"Out of respect for her decision-making process, the governor's office did not respond to any inquiries in order to allow her time to deliberate. ... The governor considers Caroline a friend and knows she will continue to serve New York well inside or outside of government. We wish her well in all her future endeavors," the statement said.
A source close to the governor's office suggested Kennedy backed out because of nanny and tax problems.
Kennedy has denied those type of problems. Stefan Friedman, a Kennedy spokesperson, said she withdrew for personal reasons. Paterson's office backed that up, saying no information had surfaced to disqualify any candidate.
"The governor set up a fair and deliberative selection process. This kind of mudslinging demeans that process and all those involved," Friedman said.
A source close to Paterson on Thursday told CNN the governor had no intention of appointing Kennedy. The source said Paterson felt the former first daughter was not "ready for prime time," citing her somewhat awkward media appearances.
"She clearly has no policy experience and couldn't handle the pressure," said the source, who spoke on the condition of anonymity because of the sensitivity of the situation. "Why would he pick her given how badly she handled herself in recent weeks?"
Democratic national committeeman and CNN contributor Robert Zimmerman agreed, adding, "Celebrity magazines and cocktail party chatter don't build support for senators."
Zimmerman was one of the first New York Democrats to say Kennedy wouldn't get the Senate seat and that Paterson wouldn't bow to pressure. Her handlers "didn't demonstrate they had a real plan of action," he said Thursday.
"The disorganized way she dropped out was reflective of the very disorganized campaign she pursued in seeking the Senate seat," he said.
Disorganization aside, Paterson's decision may have been more forward-looking.
Gillibrand, who will face re-election in two years, is a Democrat who has demonstrated she can run in a Republican bastion and win.

Albany-born Gillibrand represents New York's conservative 20th congressional district. She's a member of the Blue Dog Coalition, a group of fiscally conservative congressional Democrats.
Gillibrand's seat was held by four-term Republican Rep. John Sweeney and was considered safe for the GOP when she jumped into the race in 2006. Gillibrand won a brutal contest 53 to 47 percent. She was overwhelmingly re-elected in November, 62 percent to 38 percent.
E-mail to a friend

CNN's Candy Crowley, Mary Snow and Paul Steinhauser contributed to this report.
All About Caroline Kennedy • U.S. Senate • Hillary Clinton