WASHINGTON (CNN) -- The U.S. senator in charge of the Congressional Inaugural Committee has acknowledged there were "significant problems" handling crowds that kept thousands of people with valid tickets from witnessing the inauguration of President Obama.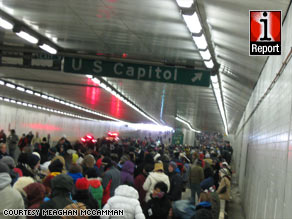 Meaghan McCamman photographed this Inauguration Day crowd stuck in an underground tunnel.
Some were stuck underground in a tunnel jammed with lines of people that took hours to clear. Others made it to a designated gate only to find it had closed.
Among the thousands who were at a standstill that day in the 3rd Street Tunnel was a woman who told CNN: "This is the only way in. One gate."
Sen. Dianne Feinstein, D-California, said the incidents prompted "great concern" among members of the Congressional Inaugural Committee.
Feinstein, who chairs the committee, has since met with key law enforcement and planning officials and issued a statement Thursday acknowledging the problems.
The meeting "was to learn more about what led to thousands of people not being able to get into their designated ticketed areas," the statement said, and that "it is clear that there were significant problems with managing crowds, especially in the 3rd Street Tunnel."

Watch a couple describe their experience »
People were stuck in the tunnel hours before Obama took the oath of office. One of them, a man from Philadelphia, said those around him already knew there was something wrong.
Don't Miss
"We have tickets for the inauguration, and because of the craziness outside, we're not sure we're gonna make it," he told CNN.
"It's just nuts. We've been standing in this tunnel for almost four hours."
Feinstein encouraged anyone with direct information on the incidents to contact the Secret Service and the Inaugural Committee at feedback@jccic.senate.gov.
On Tuesday, optimistic chants of "change" and "O-bam-A" morphed into angered shouts of "Let us in!" outside the security gates to the inauguration.
But those in the tunnel were more cheerful waiting to learn if they'd make it. A large group spontaneously sang the national anthem, and as the final notes echoed off the tile walls of the tunnel, the song turned into a chant: "U-S-A !, U-S-A !"

Watch two describe being denied access »
A man from Irvine, California, told CNN, "We have purple tickets and that's where they directed us, but, you know, we've been here since a little after 6 this morning, but the mood is good, the energy is electric, and we're all waiting to see history."

Watch iReporter's account of wading through the crowd »
On iReport.com, many people reported being turned away from entrance gates to the inauguration with tickets in hand.

Several iReporters described mass confusion and frustration as thousands of ticketed attendees swarmed security checkpoints. Event officials said some security screening lines ran slow, but there were no major systemic problems.
An estimated 1.5 million people flooded the National Mall for Tuesday's inauguration, according to an analysis of satellite imagery provided to CNN by IHS Jane's. Crowds on the Mall were so large that the National Park Service began closing off portions of it by 9 a.m., three hours before Obama was sworn in.
E-mail to a friend

CNN's Christina Zdanowicz contributed to this report.
All About U.S. Secret Service • iReport.com • National Mall • U.S. Presidential Inauguration