From Adam Levine
CNN






WASHINGTON (CNN) -- The head of the Senate Armed Services committee said Thursday that he needed more information on how the nominee for deputy secretary of defense would handle conflicts of interests in his Pentagon post.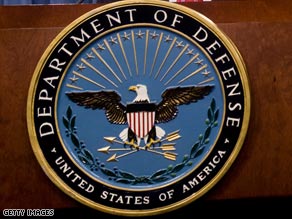 President Obama's pick for undersecretary of defense has drawn questions about his business ties.
President Obama has nominated William Lynn, an undersecretary of defense during President Clinton's second term, to be deputy to Secretary Robert Gates.
Lynn was a senior vice president at Raytheon, which has billions of dollars in Defense Department contracts. It is is the maker of the Army's Patriot missile system and the Navy's Tomahawk missile and is developing a global positioning satellite communication system for the Air Force.
As deputy secretary, Lynn would be involved in the process of budgeting and acquisitions, in addition to running the day-to-day operations of the Defense Department.
In a statement released Thursday, Sen. Carl Levin, D-Michigan, said the committee -- which must vote to confirm Lynn before a vote of the full Senate -- needs more information in light of the Obama administration's newly announced ethics rules.
"Given the president's new stricter rules requiring his appointees to recuse themselves from matters or issues on which they have lobbied, the Senate Armed Services Committee will need further information before proceeding with the nomination of William J. Lynn III to be deputy secretary of defense," the statement said.
"The committee will await the administration's assessment as to whether the new rules will preclude Mr. Lynn, who was a registered lobbyist for a defense contractor, from participating in key Department of Defense decisions, and if so, whether a waiver will be forthcoming and what the scope of the waiver will be."
In announcing the new ethics laws, Obama said that anyone who works for him who also has worked as a lobbyist would be held to a high standard.

Watch Obama discuss the new rules »
"If you are a lobbyist entering my administration, you will not be able to work on matters you lobbied on or in the agencies you lobbied during the previous two years," he said. "When you leave government, you will not be able to lobby my administration for as long as I am president."
Obama's executive order allows for a waiver if it is approved by the federal Office of Budget and Management and the president's lawyers. The waiver would be allowed if a person's individual case is inconsistent with the intent of the order or if "it is in the public interest" to grant the waiver.
The order also bans Obama's employees from receiving gifts from lobbyists or from lobbying the administration after working for it and requires that they hire workers "based on the candidate's qualifications, competence and experience."
White House spokesman Robert Gibbs defended the decision to choose Lynn, saying that the standard "is not perfect" and that allowing for a waiver will alleviate any concerns.

Watch Campbell Brown comment on Obama's transparency pledge »
"Any standard is not perfect," Gibbs said. "In the case of Mr. Lynn, he's somebody who obviously is superbly qualified, is experienced, going back to his Pentagon jobs during the Clinton administration, make him uniquely qualified to do this."
Gibbs said Lynn will be held to the standards set in Obama's Wednesday announcement of his ethics standards and will be prohibited from lobbying the administration regarding defense issues if he should choose to leave the Defense Department.
At a separate briefing, Gates also defended the decision to choose Lynn.
"I asked that an exception be made because I felt that he could play the role of a deputy in a better manner than anybody else that I saw," Gates said. "We certainly owe the Armed Services committee whatever information they need to be comfortable going forward."
Lynn himself was asked about the conflict just once at the Senate Armed Services hearing about his nomination.
"It's an incestuous business, what's going on in terms of the defense contractors and the Pentagon and the highest levels of our military, said Sen. Claire McCaskill, D-Missouri, adding that Lynn is "an example of it."
"On coming back into the department, there are equally strict ethics procedures on what issues I can handle and what issues I can't," Lynn responded. "I will be working with the general counsel's office to ensure I follow those ethics procedures completely." iReport.com: Share your thoughts on Obama's cabinet

He said he would go above and beyond the ethics standards laid out by Obama.
"It's not just the reality, it's the perception, and I understand that, and we plan to work on both," he said.
E-mail to a friend

All About Barack Obama • U.S. Department of Defense • U.S. Senate Committee on Armed Services