(CNN) -- Optimistic chants of "change" and "O-bam-A" morphed into angered shouts of "Let us in!" outside the security gates to the inauguration. These folks had tickets, and they wanted in.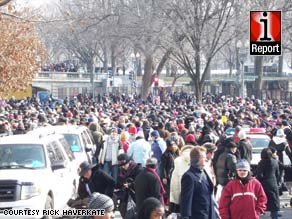 Only a slow trickle of people made it in, while the masses stood holding their tickets, Rick Haverkate said.
According to some CNN iReporters, people who had been weeping tears of joy and calling the inauguration the best day of their lives, turned to shoving each other as the clock reached the noon hour and Obama became the 44th president of the United States.
Megan Eckart was disappointed when she and a friend didn't make it into the purple section. The communication from officials was lacking, Eckart said. At one point she asked some police officers what she should do. They told her to go home.
So, she and her friend walked the cold mile back to her apartment. After standing outside for four hours, their tickets never got them in the door. iReport.com: Confused crowds at the purple gate
"It was neat to see how excited and happy the crowd started out in the morning and I believe that it was that excitement that made it so that it didn't turn into an even worse situation," Eckart said.
"I think overall the sentiment of the crowd was thankful that Barack Obama was being sworn in," she said.
On iReport.com, many people reported being turned away from entrance gates to the inauguration with tickets in hand.

Several iReporters described mass confusion and frustration as thousands of ticketed attendees swarmed security checkpoints. Event officials said some security screening lines ran slow, but there were no major systemic problems.
Don't Miss
But the Joint Congressional Inaugural Committee acknowledged at least some problems.
The committee said it deeply regrets "that some ticket holders to the ceremonies were not able to get to their ticketed sections, primarily in the purple and blue zones."

Sen. Dianne Feinstein, head of the committee, said Wednesday that she will investigate the incidents.

An estimated 1.5 million people flooded the National Mall Tuesday for the inauguration, according to an analysis of satellite imagery provided to CNN by IHS Jane's. Crowds on the Mall were so large that the National Park Service began closing off portions of it by 9 a.m., three hours before Obama was sworn in.

Corinne Pickus had been waiting in line for the silver section for four hours, when some people stormed the security barriers and ran into the Mall. Pickus said security did not try to check her when she ran with the crowd. iReport.com: See ticket holders run into the Mall

The crowd broke through around 11:15 a.m., just in time to hear the introduction of the Obama daughters. "I'm just glad that we got in," she said.

At first, the University of Colorado student said she was upset about having tickets so far back, and considered buying the coveted purple section seats.

But looking back at all the purple ticket holders who didn't get in, Pickus counts herself as one of the lucky ones. "I walked away happy from it because I saw the main things," she said.

Rick Haverkate wasn't so lucky. He traveled to the event from Michigan and got to his assigned entrance by 6:30 a.m., but by 11:30 a.m., the massive line had only moved about half a block.
There was a "chaos of people, no line and no bullhorns with directions," said Haverkate. iReport.com: "Let us in!"
"We were so disappointed that we missed the historical moment we'd be waiting for for months," he said.
"We missed the entire thing. We saw absolutely nothing."
Only a slow trickle of people made it in, while the masses stood holding their tickets, Haverkate said. Luckily, he said the mood was pretty calm and most people were jovial.
"I'm glad that change has come, but sorry I missed out on history," Haverkate said in his iReport.
Not everyone was so easy-going about missing the show. Will Derwin, 19, and his mother came all the way from the Bay Area, California, to experience the historic event. Instead he said he left disappointed, angry and disgusted.
As he waited to enter the blue section, chants of "change" turned to screams of "Let us in!" The angry chants did little good, because Derwin and many others didn't get to see anything, he said. iReport.com: Crowds gather outside blue section
"The entire experience was extremely disappointing, and I am utterly disgusted and appalled at the organization and preparation of this event," Derwin said in his iReport.
Gene Brake struck-out twice. He had tickets to both the parade and the inauguration and didn't get in to see either one. iReport.com: Congestion getting into the parade

After staring at the closed gate to the purple section and waiting in line for some time, Brake and his group realized they weren't going to get in. They moved on to claim their parade seats, which they had purchased online. The gate was gridlocked, and they missed the parade, too.
Even officials like John Bull, village mayor of Coxsackie, New York, didn't make it into the event. "When you get a ticket through your senator, you expect to get a spot," he said.

Bull was more upset about the plight of a wheelchair-bound woman he met named Denise Robinson who also missed the inauguration. iReport.com: So close, yet so far

She endured a bus ride from Detroit, Michigan, to Washington and put off her surgery only to get 20 feet from the gate before it closed.

"It's heartbreaking to think how far she came and how hard is was for her and her husband to fight through the crowds and push her wheelchair just to be shunned in the end," he said.
E-mail to a friend