From Elise Labott
CNN State Department Producer





Editor's note: In our Reporter's Notebook series, CNN correspondents reveal stories behind the news.
WASHINGTON (CNN) -- The State Department might have been slow the past few months, as the Bush administration wound down and everyone focused on the presidential campaign.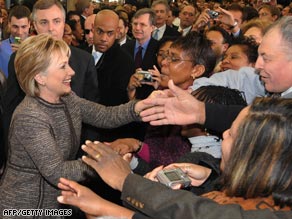 Secretary of State Hillary Clinton greets staff members during her first day of work at the State Department.
But the sleepy halls of the department's Foggy Bottom headquarters woke up and began buzzing with excitement this week, anticipating Secretary of State Hillary Clinton's arrival. And it wasn't a bad first day for America's new top diplomat, who was greeted there Thursday by 1,000 cheering employees.
The State Department is no stranger to rock-star secretaries, and Clinton's welcome was reminiscent of Colin Powell's eight years ago. And like Powell, Clinton really rallied the troops.
The thunderous applause grew louder when she told the group she would be seeking their advice and welcomed a "good debate." Clinton was swarmed by employees trying to shake her hand and take her picture as she made her way through the State Department's C-Street lobby.

Watch Clinton say she's ready to improve U.S. standing in the world »
One longtime ambassador told us he hadn't seen anything like it in his decades-long career. If that wasn't enough, President Obama dropped by with Vice President Joe Biden, standing alongside Clinton as she announced the appointment of special envoys -- former Sen. George Mitchell for the Middle East and former U.N. Ambassador Richard Holbrooke for Afghanistan and Pakistan (rock stars themselves in the diplomatic community).
It was a foreign policy "who's who," with former cabinet secretaries and hundreds of State Department employees. It was quite a sight to see Clinton standing onstage with Obama, Biden, Holbrooke and Mitchell before a standing-room-only crowd -- she clearly enjoyed being the host of this event.
There hasn't been this much activity at the State Department in ages. Having the president come to the State Department on just his second full day in office and has given a boost to members of the civil and foreign service. They've been demoralized over the past few years by the war in Iraq, Guantanamo, the plummeting U.S. image around the world, diminished resources and responsibilities that moved to the Pentagon under the Bush administration.
Don't Miss

When Obama noted he signed three executive orders Thursday and that "I can say without exception or equivocation that the United States will not torture," the crowd broke out into loud applause.
Despite all the foreign policy challenges facing the United States, the employees at the State Department are excited about Obama's promise of a "new era in American leadership" and his message that the State Department, and diplomacy, are back, and American values will guide them.
E-mail to a friend

All About Hillary Clinton • U.S. Department of State