WASHINGTON (CNN) -- In his first official briefing for journalists since the inauguration, White House press secretary Robert Gibbs said Thursday that President Obama is now receiving a daily economic briefing, similar to the daily intelligence briefing presidents have received for decades.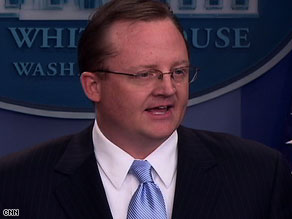 White House press secretary Robert Gibbs held his first news conference Thursday.
The daily review is being led by White House adviser Larry Summers, head of the president's National Economic Council.
Obama requested the daily brief, Gibbs said, because the country is still in the midst of an economic crisis.
Gibbs also hinted that the eventual economic stimulus plan may be larger than the $825 billion total currently being discussed.
Gibbs' first White House press briefing covered a broad range of issues, ranging from serious questions on the economic bailout, Iraq, and the future of Guantanamo Bay detainees, to lighter topics such as the first family's transition to the presidential residence.

Watch Gibbs discuss Gitmo »
Gibbs also revealed that Obama still uses a BlackBerry.
Although questions have been raised about the security of any messages Obama might send over the wireless device, Gibbs said the president -- seen constantly with the unit during the campaign -- believes it is a critically "important way to communicate."
Obama reached a compromise with his security detail, Gibbs said, that will allow him to send text messages to his senior staff and a small group of close friends.
The presumption, Gibbs said, is that any e-mail Obama sends through his BlackBerry will be subject to the Presidential Records Act and may therefore become public at a later date.
Gibbs received several questions about the administration's controversial decision to exclude most members of the media -- as well as all television cameras -- from Obama's Wednesday night do-over of the presidential oath of office with U.S. Chief Justice John Roberts.
He said that the presence of four print journalists at the brief ceremony, along with the release of an official White House photograph of the occasion, was sufficient.

Watch more on the oath controversy »
"We think it was done in a way that was up front and transparent," he said.
The new White House spokesman insisted that the president had been sworn in "appropriately and effectively" Tuesday, but that a decision had been made to repeat the oath -- which was bungled by both Roberts and Obama -- "out of an abundance of caution."

Gibbs, a former congressional staffer from Alabama and a veteran of the Obama presidential campaign, can have the demeanor of a Southern gentleman, but he's "a hardball political operative deep down," said CNN's Ed Henry.
Gibbs is extremely close to the president, noted Henry, a fact that could prove problematic in the long run, because the White House press secretary works not only for the president, but also for the media.
E-mail to a friend

All About Robert Gibbs • Barack Obama